2016 Janus Pinot Noir
Lively acidity and structured tannins frame notes of vibrant dragon plum, elderberry tea, rose stem, fresh turmeric, porcini, tarragon, and tobacco leaf with a long, earthy finish.
In Roman mythology, Janus is the God for new beginnings, as well as endings, the future, the past and doorways. Janus is the God of balance. The ultimate expression of Pinot Noir! Janus is our flagship… the richest, most vibrant and intense blend that we produce.
Janus is the first label that Jimi produced when he founded Brooks in 1998. Jimi's passion and interests of mythology and astrology often were shown through the creation of his first wines.
Only 1,000 cases produced!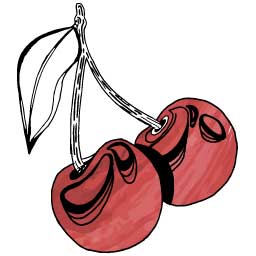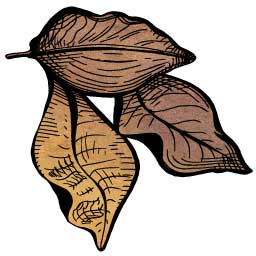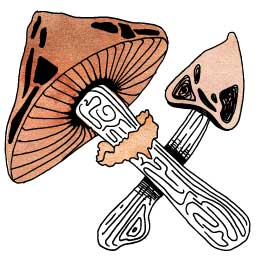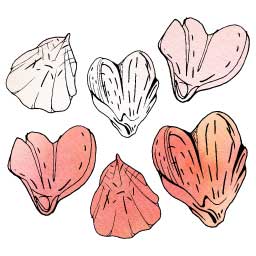 What our team says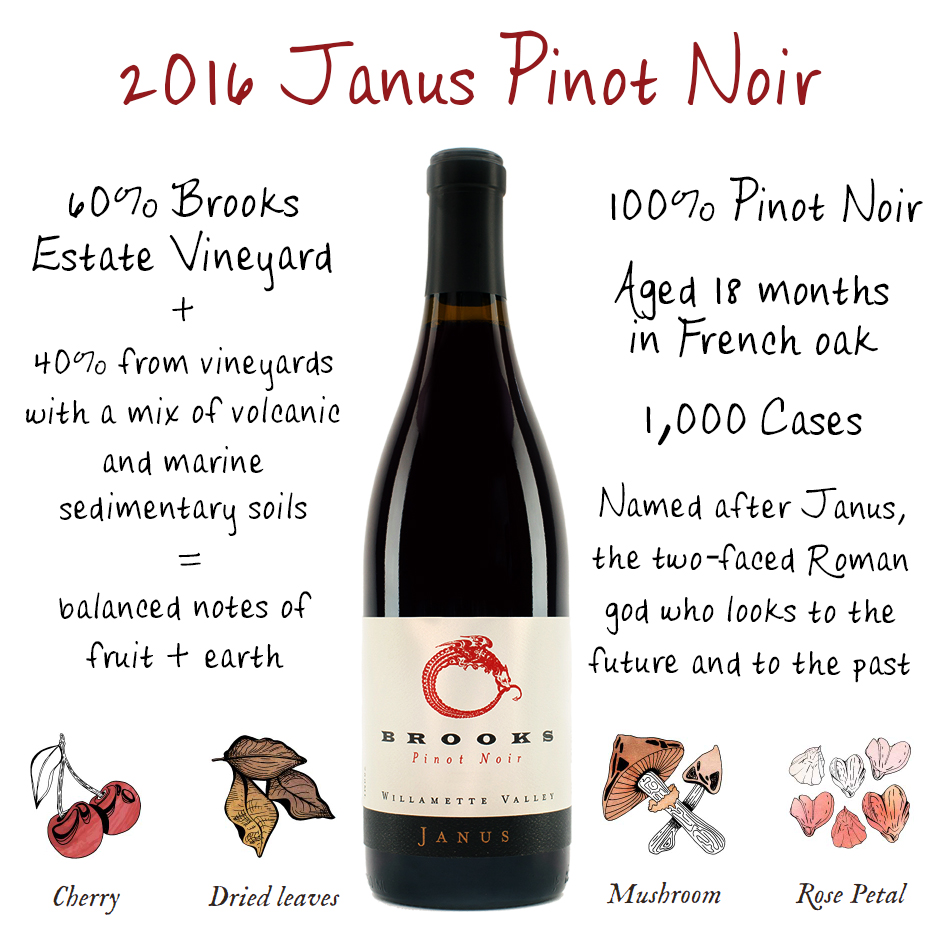 Vintage Notes
Similar to the previous two vintages, the 2016 growing season continued to push the envelope for defining the new normal in Oregon as one of the earliest on record. An unusually warm spring brought bud break between 2-4 weeks early, and a short heat spell at bloom condensed the flowering period, resulting in a smaller fruit set. Summer provided average conditions with fewer heat spikes than the 2014 or 2015 vintages, which led to smaller berry size and a high concentration of flavors. A warm August shepherded along the early vintage at Brooks, running from September 2-October 12th. Though it was an intense growing season due to the early start, the harvested grapes showed wonderful concentration and complexity with high natural acidity.
Comprised of pinot noir grapes from our very own Brooks Estate vineyard located in the Eola-Amity Hills, as well 7 other vineyards located throughout Willamette Valley. This pinot noir contains 60% from Brooks Estate. The 7 other vineyards include: 10% from Crannell, 10% from Muska, 7% from Sunset Ridge, 5% from Toluca Lane, 4% from Temperance Hill, 2% from Sunny Moutain, and 2% from Yamhill.
This pinot noir is completely hand sorted and 100% destemmed.
AVA

Type

Red

Varietal

Pinot Noir

Region

Oregon

Appellation

Willamette Valley

Vintage

2016

Vineyards

Brooks Estate Vineyard, Crannell Vineyard, Muska Vineyard, Sunset Ridge Vineyard, Toluca Lane Vineyard, Temperance Hill Vineyard, Sunny Mountain Vineyard, Yamhill Vineyard
Vinification

Filtration

Cross-Flow

Case production

1200

Aging

18 Months

Crush format

Hand Sorted and 100% Destemmed

Bottling date

2018-05-03

Vessel

French Oak Barrels
By the numbers

Alcohol percentage

13.8

Ph

3.64

Acid

5.5 g/L
Download tasting notes →

(Link opens in a new tab)