Brooks is the living legacy of Jimi Brooks, a visionary Portland native who came to wine through his passion for history and philosophy.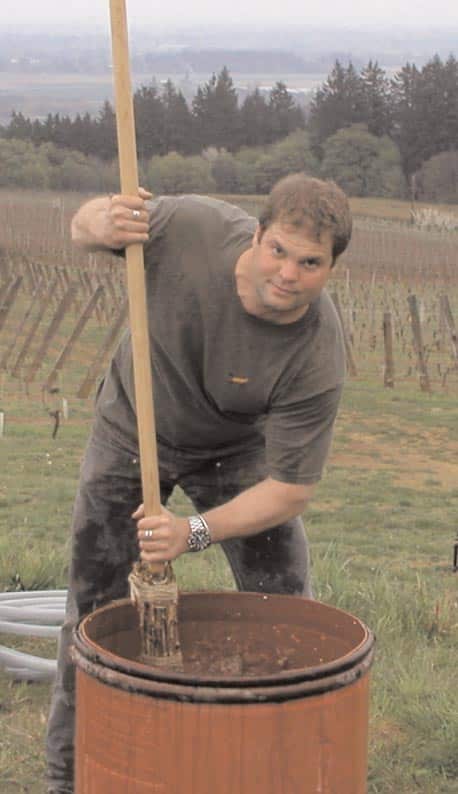 After traveling the world and experiencing the hard work of winemaking in Beaujolais, Jimi returned to Oregon and found a burgeoning wine world. He devoted the rest of his life to holistic farming and winemaking in the Willamette Valley, showcasing the region's potential for expressive, complex and balanced Riesling and Pinot Noir.
While Jimi is no longer with us, his strong commitment to biodynamic farming, his gentle approach to winemaking and his excitement for the Willamette Valley terroir live on through our wines and our team. Jimi's son Pascal is the sole owner of the winery; Jimi's sister Janie Brooks Heuck has volunteered her time to lead it; and Jimi's longtime friend and winemaking accomplice, Chris Williams, continues to make Brooks' wines.
There have been many milestones since Brooks was founded in 1998. In 2008, we expanded our winemaking operations and purchased the 20-acre vineyard Jimi started farming in 2002. In 2012, we obtained biodynamic certification from Demeter. In 2014, we opened a new winery and tasting room. Our welcoming tasting room, with its ample seating and wine bar, overlooks the Cascade Range and the Willamette Valley floor, perfect for gatherings with friends and family–a fitting reflection of Jimi's vision.
The brooks team today
Chris Williams
Winemaker

Chris Williams met Jimi Brooks in 1997 by happenstance, selling Jimi motorcycle parts for an old Moto Guzzi. The two became fast friends, and Chris soon began working at the winery – first by working wine club events. Chris soon found himself helping Jimi in Brooks' cellar, and went on to work alongside Jimi at WillaKenzie Estate and Maysara Winery.

When Jimi passed away suddenly in 2004, Chris was among the many friends and winemakers who stepped in and helped make Jimi's wine that year.

Chris became Brooks' full-time winemaker in 2005 and has brought continuity to Brooks wines, sharing Jimi's philosophy and style, and continuously showcasing the elegance of small-production Riesling and Pinot Noir from the Willamette Valley.
Pascal Brooks
Owner

Pascal Brooks is the sole owner of Brooks, having inherited the winery at the age of eight when his father, Jimi Brooks, unexpectedly passed away. Up until that time, Pascal was often found by his father's side in the winery.

Pascal is currently enrolled at the University of California at Santa Cruz, where he is dual majoring in Creative Writing and Sustainable Agriculture. He works 20 hours a week on the UCSC farm, and spends his summers at Brooks. Pascal is very active outside of school and work, and likes to hike, bike, camp, and swim in the ocean.

Pascal's story was a central thread in the 2014 documentary American Wine Story and more recently in FOX Business Network's Strange Inheritance.
Janie Brooks Heuck
Managing Director

Portland native Janie Brooks Heuck spent more than a decade in the health care industry before finding herself responsible for the business operations at Brooks Winery. Struck by the generosity and guidance from the Oregon wine community after Jimi's passing, Janie quickly realized the importance of Jimi's lifework, and she set out to execute Jimi's wish of turning Brooks into a family legacy – starting with Pascal.

Since taking over as Managing Director in 2004, Janie has increased Brooks' production from 3,500 to 20,000 cases and, in 2008, purchased the 20 acres that Jimi had farmed biodynamically since 2002. Janie is also on the Board of Directors of the International Riesling Foundation, on the board of Wine America, and on the media committee for the International Pinot Noir Celebration.
Heather Kirk
Director of Wine Club Happiness
Jessica M. Cortell, Ph.D
Vineyard Manager
Claire Jarreau
Assistant Winemaker & Grower Liaison
Norma Buchholz
Executive Chef

Peace, Bread, Land, Wine
Discover what it means to us…and you.