Brooks is open for wine and food service!
Today's greatest luxury is space. Safe, sanitized space to enjoy getting out once again with friends and family. We've got every detail covered and have redesigned our tasting experience to adhere to reopening guidelines while still offering our excellent Brooks hospitality. We can't wait to see you soon!
We encourage you to read our guidelines for reopening.
Please note: Reservations are now required for all visitors. Book your Everyday Experience here.
From the Kitchen
Menu crafted by our Executive Chef, Norma Buchholz
Gourmet Boards
Paco Board $19
Assorted cheeses, charcuterie with seasonal accompaniments
Fromage $17
Selection of three cheeses with seasonal accompaniments
Charcuterie $17
Selection of three meats with seasonal accompaniments
Seasonal Selections
The Perfect Pairing $28
Fry Bread "Taco" – White bean puree, spiced ground beef, cabbage,
sharp cheddar cheese, pico de gallo, cilantro crema & avocado
Comes with a 3 oz pour of 2016 Cahiers Pinot Noir
Heirloom Tomato Gazpacho (Vegan, G.F.) $10
Tomatoes from our garden, cucumber, citrus, bell pepper, chili & fresh herbs
Suggested Pairing: 2017 Rastaban Pinot Noir
"Caprese" Salad with Burrata (a twist on a classic, G.F.) $15
Tomato, peaches, garden greens, basil vinaigrette & topped with Burrata Cheese!
Add garlic shrimp (6) $9
Suggested Pairing: 2019 Amycas White Blend
Tropical Sea Scallops (G.F., D.F.) $24
Seared sea scallops, coconut rice & pineapple citrus salsa
Suggested Pairing: 2016 Cahiers Riesling
Fried Brussels (Vegan, G.F.) $12
Carrots, Beets, Sweet Serrano Vinaigrette
Suggested Pairing: 2018 Ara Riesling
Sides & Sweets
Hazelnuts $8
Warm chili & paprika local hazelnuts
Olives $9
Trio of olives with white wine & herbs
Marcona Almonds $5
Popcorn with Herb Oil $5
Kids Popcorn $4
Dessert $7
Wine List
Wine Flight of six 1 oz pours
of the wines offered by the glass for $20
Additional wines will be available by the bottle
Rotating draft beer & cider (12 oz)
Beer $4 | Cider $6
Flag & Wire Coffee + Non-Alcoholic
Espresso $3 | Americano $4 | Cappuccino $5 | Latte $5
Juice $2 | Root Beer $3 | Topo Chico Mineral Water $3
One tasting fee may be waived per every three bottle purchase
Wine Club Members:
Receive up to 4 complimentary glasses per club membership (one per person). Enjoy a bottle of our current release wines at 1/2 price while drinking in our tasting room. Ask how to join the club today.
RESERVATIONS
Our tasting room will be open from 11am to 5pm seven days a week.
Reservations are available at the following time slots: 11am, 11:30am, 1pm, 1:30pm, 3:00pm and 3:30pm.
A reservation fee of $40 will be taken at the time of reservation and refunded during your visit. If you have not arrived within 30 minutes of your reservation time, you will be charged the deposit if we cannot otherwise fill your table.
Maximum of 8 guests per table. Please do not move tables as they will be intentionally spaced.
Reservations can be made indoors or outdoors. Outdoors reservations will be weather dependent.
WHAT TO EXPECT
Upon arrival, guests will be greeted by our concierge and directed to their reserved table. Please maintain a minimum of 6 feet of distance from staff and other guests outside of your group while waiting to be seated.
Once seated, guests will be required to stay in their section and asked to use the restroom designated for that section.
Each reservation will have a 90 minute time slot.
Please include children in guest count. Parties that include children must book their reservation in the lower patio or lemon shade sections. We ask that all guests follow social distancing guidelines, including children. This means that children must remain seated at your designated table and must be accompanied by an adult at all times when up from the table. Children are not allowed to run around unsupervised.

Please understand that we are following government mandates so that we are allowed to remain open. Anytime anyone comes within 6 feet of other guests, we are in violation of these mandates. If any table or chair is touched or climbed on, our staff has to re-sanitize that entire seating area before it can be used. We thank you for your cooperation in keeping our guests and staff healthy and safe.
Reservations with dogs must be made in the lower patio or lemon shade sections. Dogs are not allowed inside the tasting room or on the upper patio and must be leashed.
Please, no outside food as we have a menu of food items created by Chef Norma.
SAFETY GUIDELINES
All staff will be wearing masks. Staff that handle food will be wearing gloves. It is now mandatory in the state of Oregon that guests wear masks inside our tasting room while up and walking around (masks are not required while seated at your table). We have complimentary masks available.
All surfaces will be rigorously disinfected including seats, tables, menus, and all other touchpoints. Hand sanitizer will be provided throughout the tasting room for guest use.
Restrooms will be sanitized every 30 minutes.
Tasting flights (starting June 15th) will be poured in their entirety to minimize contact between staff and guests.
Tables will be spaced no less than 6 feet apart to control the flow of guests throughout the property ensuring social distancing guidelines are met.
Please follow floor markings throughout the tasting room to ensure proper distancing.
WINE BUNDLES
Can't make it to the tasting room?
Check out these wine bundles and have the Brooks experience delivered to your door
(shipping included on all 6+ bottle orders)!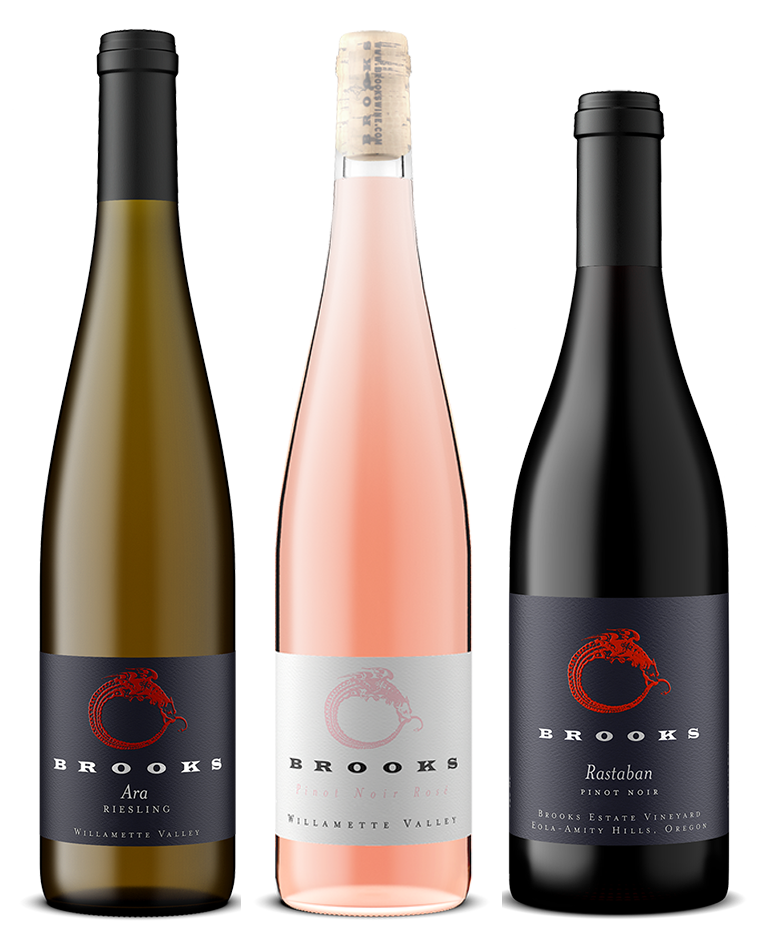 Savor Summer
2017 Rastaban Pinot Noir
2017 Ara Riesling
2019 Pinot Noir Rose
$66
ESSENTIAL PINOT NOIRS
2019 Rosé of Pinot Noir
2018 Runaway Red Pinot Noir
2018 Willamette Valley Pinot Noir
$82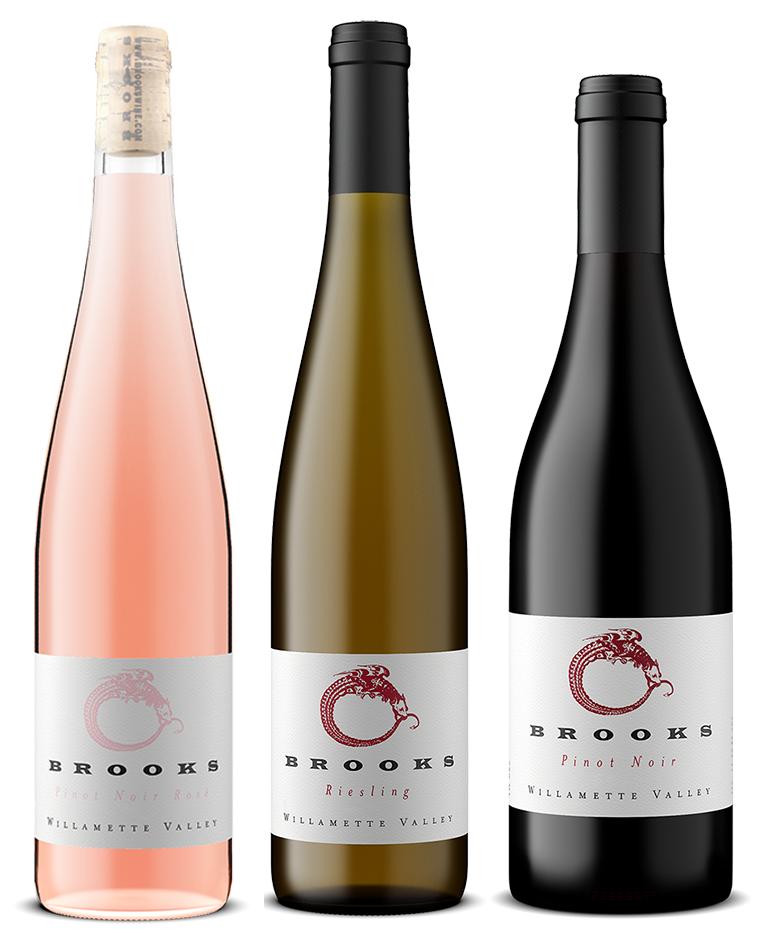 Brooks starter pack
2019 Rosé of Pinot Noir
2018 Willamette Valley Riesling
2018 Willamette Valley Pinot Noir
$78
Seriously Committed to a Better Future
At Brooks, we don't beat around the bush when it comes to caring for our land. We are the first winery in the Willamette Valley (and one of the first in the world!) to partner with 1% for the Planet. We are proudly B Corp Certified and we are Demeter Certified Biodynamic.
Learn more about how we care for our land