Dear Friends,

I hope this finds you safe and healthy. The grounds (above) at Brooks are blooming! The world is beginning to reopen and let's hope that businesses and patrons are thoughtful and keep everyone's safety as the top priority over sales. We are part of the Phase 1 re-opening in Oregon effective May 15th. We have decided to not reopen as of yet. To ensure the safety of our team and guests, we will be taking a slow and smart approach in the coming weeks. In the meantime, we will continue curbside service and deliveries within 25 miles. You will be the first to know when we are ready to open!
A "Useful Rather Than Exciting" Varietal
Jancis Robinson has described Pinot Blanc as a "useful rather than exciting" grape. That is because the typical contribution of this white grape mutation of pinot noir is body and weight, not generally substantial acid. Well, give a non high acid grape to Winemaker Chris Williams, and he will make a wine from it that will make you pucker, in a good way. And our 2019 Pinot Blanc is just that!
If you didn't already know, Heather, Brooks' Director of Wine Club Happiness is completely obsessed with our Pinot Blanc: "The Pinot Blanc is my favorite white varietal because it's dry, crisp & has great acidity! It pairs perfectly with the Spring & Summer sunshine, my deck and friends!"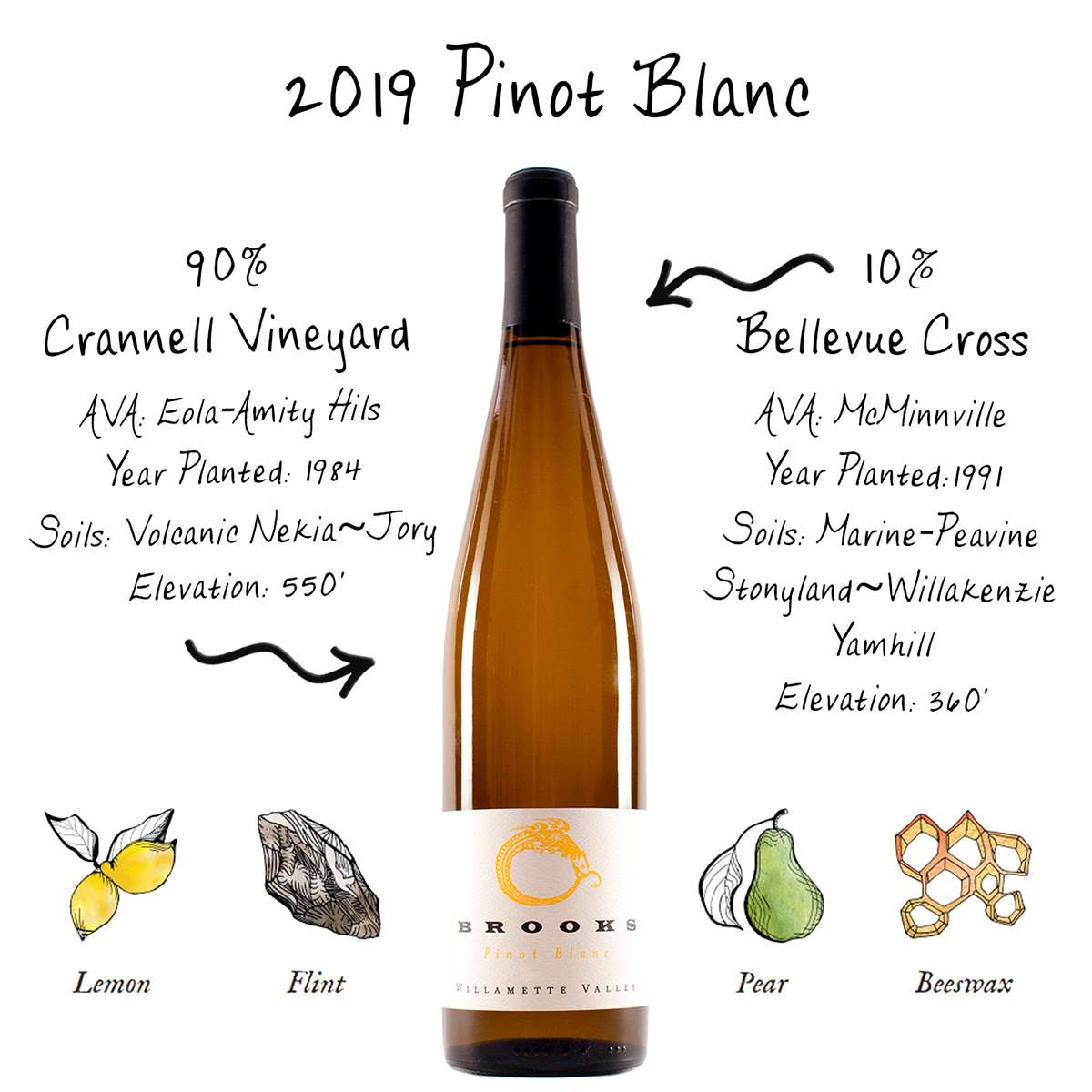 The World of Independent Restaurants
Restaurants around the country are closed. According to the Independent Restaurant Coalition, 11 million people are out of work in this industry. There has not been any Federal stimulus money directed to restaurants. I personally know hundreds of friends who are affected. Digging deep to see how we can help, we are excited to offer you new wines that will be providing support to organizations that are helping restaurants and their workers.
For the past 4 vintages, we have collaborated with some of the best and brightest in wine. The intention for us was to educate wine professionals through a deep dive tasting of pinot noir by clone and site to understand the differences that each can contribute to a finished wine. The role of the wine professional is to use this education to create their own custom blend of Pinot Noir and sell it to their guests as part of their restaurant experience. This program has been super successful.

As you can imagine, with restaurants being closed, there has been no opportunity to sell these wines. So the wine professionals and I put our heads together and came up with a grand plan! Effective today, these wines will be on our website. The net proceeds of these wines will be donated to a charity of the somm and/or proprietor's choice. This week we are launching two that have been a part of this program since the beginning:

2018 Double Horseshoe Pinot Noir was made by sommelier Cappie Peete for the AC Restaurant Group in North Carolina (Poole's Diner, Death and Taxes, Beasley's, and more) owned by Ashley Christensen. The AC team has designated Southern Smoke Foundation as their non profit and specifically their Emergency Relief Fund. The Fund provides funding to individuals in the food and beverage industry who are in crisis. Since 2017, Southern Smoke Foundation has provided $2.4M in Emergency Relief Funding. And you can imagine, these funds are in the highest demand ever because of the closures of so many restaurants.

2017 Storyteller Pinot Noir was made by wine professional Michael Alberty. Michael has been a long time supporter of Brooks back to the Jimi days and is responsible for introducing our Ara Riesling to Jancis Robinson many moons ago! Michael was the proprietor of Storyteller Wines and while the shop is no longer open, he continues to hone his blending skills by making a limited number of cases with us each year. Michael's designated non profit is the Oregon Chapter of the World Central Kitchen project which is being supported by our good friends at Plate and Pitchfork. Local restaurants are paid with these funds to prepare nutritious meals to deliver to folks who cannot afford food right now or make meals for themselves like the elderly and farmworkers. Local Oregon restaurants are getting cash flow, able to employ their teams and people are getting fed!

Please note that approximately 50% of the purchase price of the wine will be donated to these organizations. The six bottle complimentary ground shipping and club discounts will apply. It feels good doesn't it?

Another Week On The Books
It was another busy week in the virtual world. Between panels and tastings, I had seven events including a 4 course wine pairing dinner with a country club in New Jersey! The recording from one of the events is below. There are some good practical Life Hack tips in there! The requests keep coming and I continue to polish my new role!
Whatever you need from me, I am here for you!
[email protected] or cell 831-238-4828.
With gratitude,
Janie