it's time for Beyond Brooks
Season two!
Last year's response to our Beyond Brook collaboration series was beyond our expectations. By popular request, we've prepared a second season that might be even better than the first. Whether you're out to discover something new, give great gifts, or simply enjoy the convenience, you can't go wrong with Beyond Brooks.
What is Beyond Brooks?
Beyond Brooks is a monthly collaboration series that brings together likeminded artisans from our local community and across the nation. Our selections are designed to intrigue and inspire…and make an impact.
Like all Brooks purchases, a portion of your Beyond Brooks subscription goes directly to our impact partners, 1% For the Planet and Kiss the Ground.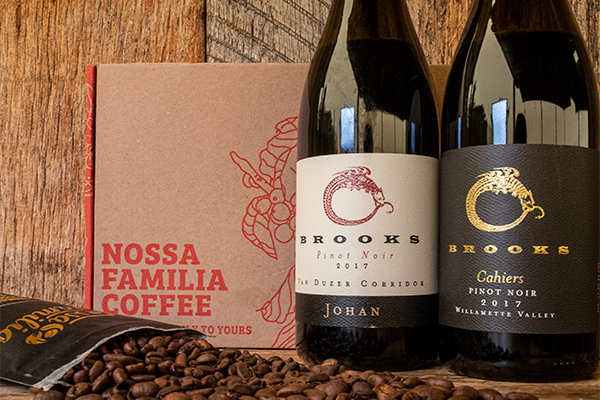 partner selection
Selection of featured products from our Beyond Brooks partner. Season One partners included an interactive cooking demonstration with Celebrity Chef Elizabeth Falkner, and a Franklin Steak cookbook with rubs and a "how to smoke BBQ" class with award-winning writer Jordan MacKay.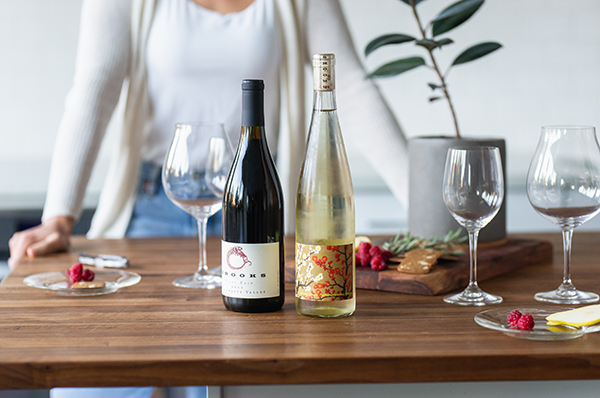 perfectly paired wine
Two bottles of Brooks carefully selected to pair perfectly with partner products. Past selections included 2019 Brooks Estate Pinot Gris, 2017 Brooks Crannell Pinot Noir, and 2018 Brooks Muska Vineyard Orange Muscat.
virtual get-together
Each month, meet our Beyond Brooks partner and hear the stories of their paths to success. Led by Master of Wine, Bree Stock, and our own Janie Heuck, these entertaining virtual experiences have been one of our most popular offerings since their launch in 2020.
December's partner: Olympia Provisions
Sales end December 1st!
Our Beyond Brooks partner for December is Olympia Provisions!
Salumist Elias Cairo, grew up first generation Greek-American with a father who made charcuterie at home. It was in Europe that he rediscovered the art of curing meat and found inspiration in the markets and mountain towns of the old world. He has since brought this craft to Oregon and is leading the way for sourcing environmentally regenerative, humanely-raised pork.
This bundle includes:
1 bottle of 2018 Brooks Estate Riesling
1 bottle of 2018 Brooks La Chenaie Pinot Noir
1 Olympia Provisions Summer Sausage
1 Olympia Provisions Rosette d'Oregon Salami
1 Olympia Provisions Saucisson D'Alsace Salami
1 Olympia Provisions Bread and Butter Pickled Zucchini
Webinar with Elias Cairo, Founder and COO of Olympia Provisions, Janie Heuck, Managing Director of Brooks, and Master of Wine, Bree Stock on Saturday, December 11th at 1pm PST/4pm EST
season two partners

reviews of beyond brooks season one
"We so enjoyed the sessions of Beyond Brooks we were participated in this last year were great! What we learned about cheeses and olive oil during the sessions helped us appreciate those foods more and expand our tasting horizons. Thank you so much for the wonderful experiences! We are looking forward to the new season's offerings."
Karen, Oregon
"Beyond Brooks offered fun and interesting insights into adjacent businesses and products offered by people with the same dedication to excellence and high standards of responsibility as the team at Brooks."
John, Virginia
"I have thoroughly enjoyed the Beyond Brooks series. It has given me the opportunity to meet new producers and their exceptional products with new and favorite Brooks wines. The virtual platform that you use is one of the best allowing participants to feel like they are right there. I for one will purchase the entire series."
Sheri, Utah