Beyond Brooks.
Better, together.
A Wine & Webinar collaboration for you, for your friends, and for our community.
Beyond Brooks is a monthly collaboration series featuring likeminded artisans from our local community and across the nation. With each month's purchase, you'll discover new products to delight and stories to inspire.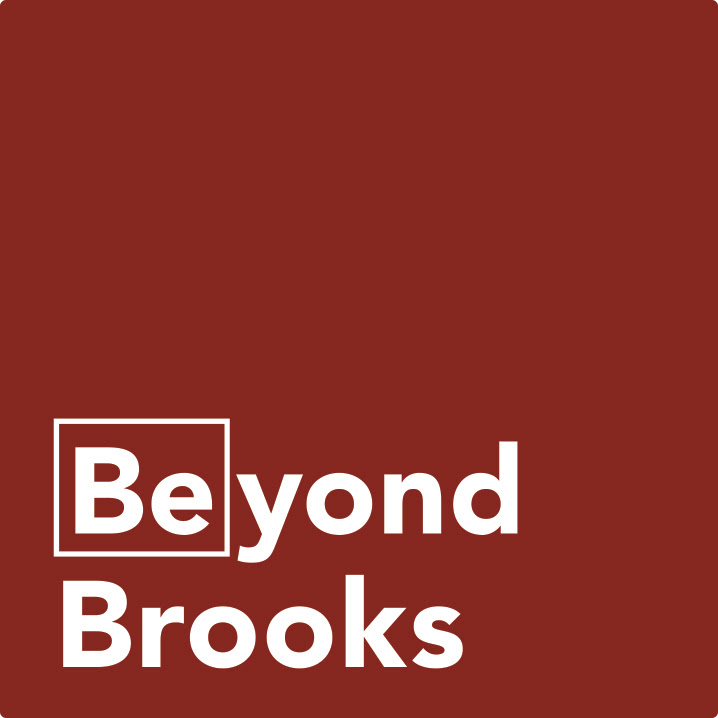 every bottle counts.
For every bundle sold, Brooks will donate $5 to Assemblage Symposium, a non-profit organization aimed at the advancement, empowerment, and education of women and diverse communities in the wine industry.
Since October, Beyond Brooks has been able to donate almost $3000 to Wine Unify and Assemblage. Thank you for helping to make that happen!
each month, you'll receive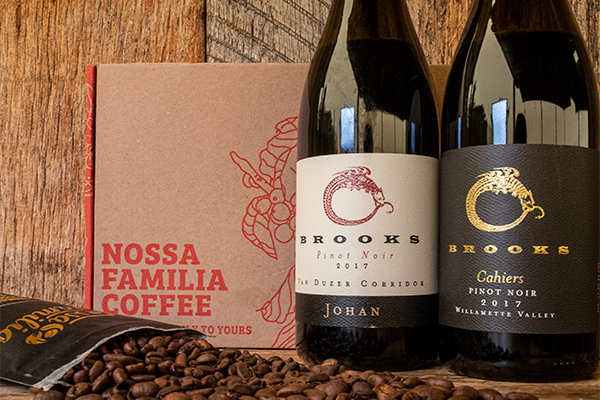 partner selection
Selection of featured products from our Beyond Brooks partner. Upcoming partners include an interactive cooking demonstration with Celebrity Chef Elizabeth Falkner and a Franklin Steak cookbook, with rubs and a "how to smoke BBQ" class with award-winning writer Jordan MacKay.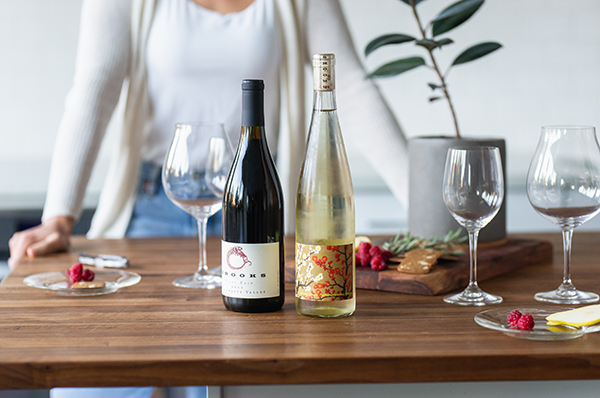 perfectly paired wine
Two bottles of Brooks carefully selected to pair perfectly with partner products. Past selections include 2019 Brooks Estate Pinot Gris, 2017 Brooks Crannell Pinot Noir, and 2018 Brooks Muska Vineyard Orange Muscat.
virtual get-together
Each month, meet our Beyond Brooks partner and hear the stories of their paths to success. Guided by Master of Wine, Bree Stock, and our own Janie Heuck, these entertaining and educational virtual experiences have been one of our most popular offerings since their launch in 2020.
MEET OUR MARCH PARTNER:
NOSSA FAMILIA COFFEE
Our Beyond Brooks partner for March is Augusto Carneiro, founder of Nossa Familia Coffee.
This bundle includes:
1 bottle of 2017 Brooks Johan Pinot Noir
1 bottle of 2017 Brooks Cahiers Pinot Noir
12oz bag of Nossa Familia Full Cycle Signature Blend whole bean coffee
12oz bag of Nossa Familia Guatemalan microlot: Timoteo Minas whole bean coffee
2 Nossa Familia Steeped single serve packets of Teodoro's Italian Roast
A webinar with Founder, Augusto Carneiro who will walk you through his unique family coffee farms of Brazil and Guatemala and talk about farming and share tips on brewing the perfect cup at home on Saturday, March 13th at 1pm PST/4pm EST with Janie Heuck, Managing Director of Brooks and Master of Wine, Bree Stock
Cost per pack: $99
Cutoff for orders is March 1st.
* Please note that bundles will not ship until 2 weeks prior to the webinar date. If you would like to pick your bundle up at the tasting room, please note that the partner products will not be available until around 2 weeks prior to the webinar date. You will receive an email when your bundle is ready to be picked up.
upcoming partners
the full 2021-2021 season
October: Paul Durant, Proprietor of Durant Olive Mill
Bundle includes Estate Blend Extra Virgin Olive Oil & and "Citrus" Olive Oil Two Stack
November: Nate Ready, Cider Maker of Floréal Cider
Bundle includes Biodynamic fruit ciders
December: Bronwen and Francis Percival, authors of Reinventing the Wheel
Bundle includes Book, Reinventing the Wheel and 3 cheese pack from Rogue Creamery
January: Matt Thomas, Founder of Brew Dr Kombucha and Teahouses
Bundle includes Hand crafted kombucha and organic teas
February: Diana Blank, Aromatherapy Consultant of Work Life Essentials
Bundle includes 2 essential oils and exercises to calm and reenergize
March: Augusto Carneiro, founder of Nossa Familia Coffee
Bundle includes Coffee sampler pack from family farms
April: Kiss The Ground
Bundle includes Deep-dive gardening class led by a soul Kiss The Ground farmer
May: Celebrity Chef Elizabeth Falkner
Bundle includes Interactive cooking demonstration
June: Jordan MacKay, award winning food and wine writer
Bundle includes James-Beard Franklin Steak cookbook, rubs and how to smoke BBQ class