Dear Friends,
Thank you all for your responses last week. I am happy to report that many of our team completed the course developed by Starbucks and Arizona State University on To Be Welcoming https://tobewelcoming.com/. Note, this course is complimentary so if you have a business or other groups that you want to share it with, please do. I am proud to be an ASU Alum and acknowledged the last two years as one of their Top 100 Business Leaders. This course is just one example of the good work being done at ASU.
We are proud of the work we are doing and will keep you updated from time to time as we make strides in our efforts. Please feel free to reach out at any time to check on our progress!
Below are some great ideas for Father's Day!
Give Dad The Somm Wines That Give Back!
Thank you to those of you who have purchased our Somm Series Pinot Noirs: the Storyteller, Homage, and Double Horseshoe (blended by sommelier, Cappie Peete for the AC Restaurant Group owned by Ashley Christensen). The Storyteller sold out in 4.5 days and we proudly sent off a check this week to World Central Kitchen's Portland Chapter for $5K! As you will see in the video below, if we sell out of all of these wines, we can raise a total of $30K so let's keep up the good work!
A Book and Wine For Dad
For the past few weeks, we have been sharing our upcoming Read & Sip event in partnership with Lifetime Vintage. In support of people of color in the wine industry, Lifetime Vintage has offered to donate their entire share of the proceeds from this event to the Association of African American Vintners. Brooks has agreed to MATCH this donation totaling 20% of the proceeds. The AAAV has committed to use this donation for their scholarship program.
Leadership and Life Hacks, the book for this event is great. As someone who runs a business, there are so many of the "hacks" I have used or will use. It is a great read!
For $99, you receive 3 bottles of Brooks wine, the book Leadership and Life Hacks by my friend and business maven Alyssa Rapp as well as a virtual book club event with myself, Alyssa and the team at Lifetime Vintage. And as a special guest, a principal of the Association of African American Vintners will share information about the organization.
The Zoom conversation is NEXT Saturday, June 20th, at 4pm EST/1pm PST. Join us in this great event and supporting our fellow industry members!
For A Dad Who Loves To Grill
My kids and I decided to gift David, my husband, something that goes with wine. My husband loves to grill! A good friend of mine, Jordan MacKay, has a great grilling book out called Franklin Steak. In addition to the book, Jordan recommended buying steaks from Carter Country Meats. They are running a Father's Day special (15-30% off) and promised me that if you order by midnight on Monday, June 15th, you will get your steak in time for Father's Day! There is still time to order wine for dad this week too.
Serve Dad The Perfect Pairing
We are very proud to be one of the leaders in biodynamic farming in the wine industry, certified in our Estate vineyard as well as the winery. For the rest of June, we will feature a different wine from the Estate as well as some soundbites on biodynamics. First up, some of the oldest grapes on the Estate: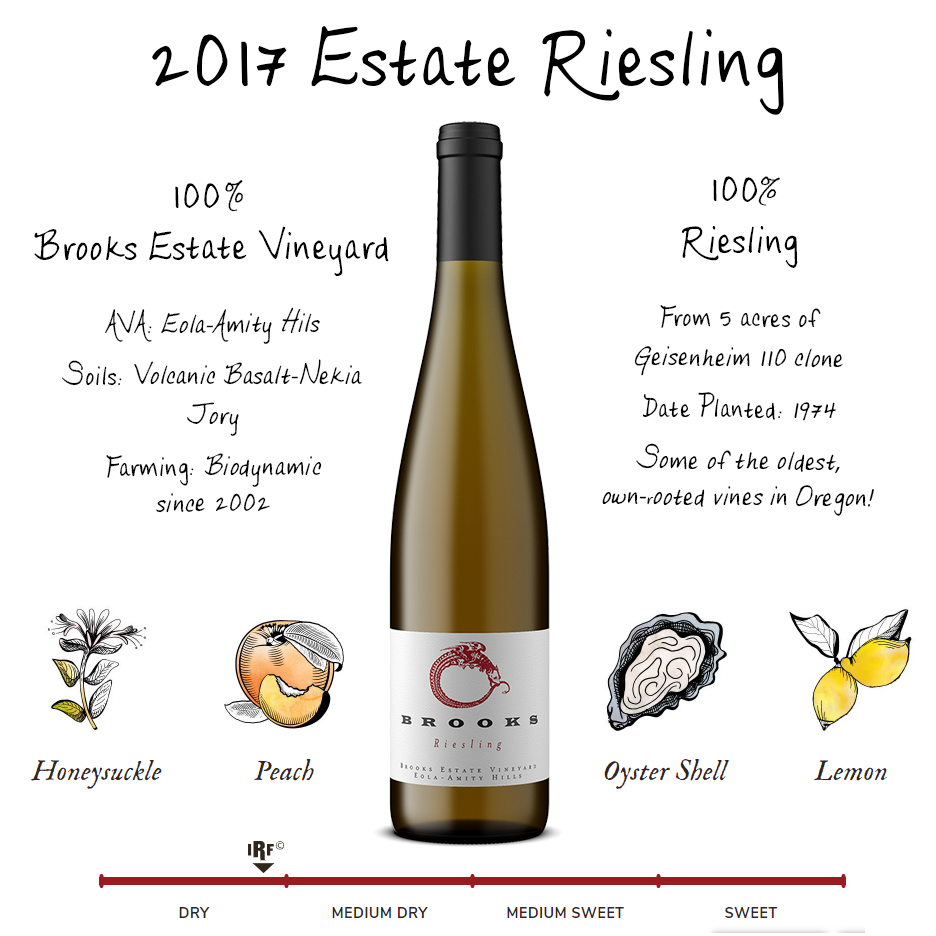 What pushed us over the edge to be named in the Top 100 Wineries in the World in 2019 by Wine & Spirits Magazine was our Rieslings. We are very proud to share that in the June 2020 issue featuring Year's Best US Rieslings, we topped the category in number of labels included. Here is what they had to say about the 2017 Estate Riesling:
"Drawn from Brooks' 45-year-old estate vineyard, this is complex and jangly from the first sniff, smelling of litchi and Tequila salt, with a touch of botrytis breadth and complexity in the background. Its flavors take on apple and peach tones, dry and mildly nutty, with a flinty, mineral finish; to pair with halibut." 91 points, 200 cases. Patrick Comiskey
Perfect Pairing for June
Wine & Spirits suggested halibut, Chef Norma went for sea scallops! This is a delicious pairing!
Bring Dad To Brooks
Live local? Chef Norma has planned a special menu of BBQ for Father's Day. All you have to do is make a reservation….and do so quickly, the day is filling up!
Bring Brooks To Dad
Give dad a virtual tasting with me! I am happy to spend time on Father's Day or another day with your dad talking wine and Brooks. It can be a Brooks wine that you get him for Father's Day or a Brooks that you already have in your cellar. No additional cost for the tasting itself. I have loved connecting with so many people in this new format and would love to meet your dad!
In closing, it will be a busy week at Brooks. We are bottling 49 different wines this week! The 2018 Single Vineyard Pinot Noirs including the Janus and the 2109 Rieslings! Chris and the team are super excited about these wines! And, as an added bonus, Mother Nature is finally bringing us some warm weather!
You know where to find me: [email protected], cell: 831-238-4828.
Be well,
Janie