Dear Friends,
Happy Father's Day to all! I hope everyone is safe, healthy and celebrating your dad or celebrating being a dad or grandfather or all of the above!
In honor of fathers at Brooks, I want to share a great story with you about our Estate Vineyard, some thoughts about dads from our team and the infographic and special offerings on one of dads' favorite Brooks wines — the Rastaban Pinot Noir!
Pictured above: The "Dads" of the Willamette Valley–circa mid 1970s.Front Row (kneeling, left to right): Joe Campbell of Elk Cove Winery, David Adelsheim of Adelsheim Vineyard Back Row (standing, left to right): Bill Blosser of Sokol Blosser Winery, Don Byard of Hidden Springs, Myron Redford of Amity Vineyards, Dick Erath of Erath Vineyards, Fred Arterberry of Arterberry Winery, Fred Benoit of Chateau Benoit (now Anne Amie), David Lett of The Eyrie Vineyards
Papa Riesling
He may not be known as Papa Pinot but I think Don Byard (see photo above) should be called Papa Riesling in the Willamette Valley! Back in 2001, when my brother Jimi was searching for old vine Riesling, he found Don and the beautiful east facing 750 foot elevation vineyard that was planted in 1974. This riesling and these vines are some of the original plantings in the Willamette Valley. Jimi and Don shared a passion for Riesling and Don allowed Jimi to start farming it biodynamically and purchasing the fruit in 2002.
One of Jimi's dreams was to own that vineyard someday. Jimi's service was held overlooking this beautiful property in 2004.
After Jimi's passing, the relationship with Don and his family deepened. My husband and I bought the vineyard in 2009 to secure the property for the winery.
In 2008, Don's daughter, Heather, came to work for Brooks. Most of you know her as the Director of Wine Club Happiness. Another daughter, Heidi, has worked for us in the tasting room since about that time as well. She takes great care of our guests!
Don, his wife Carolyn (aka "the blond") and their three daughters-Heather, Heidi and Holly have become like family to me. So much so that they have nicknamed me "Hanie"! At Brooks, we are so grateful for this family and for Don's incredible vision to plant Riesling way back when! Happy Father's Day, Don!
Father's Day Reflections
Heather: "Don is just not my dad, but he is my boy's Papa! He never let a learning moment go by without teaching us something growing up and has continued that with his grandkids. We love our Papa!! ❤️"
Heidi: "My dad is patient, kind and a good listener. He is always teaching us something new. He has not only been a good father but he as been a great grandfather to our kids. I love his sense of humor and he is a great conversationalist. We share the love of cooking! He taught us good work ethic making us work in the vineyard and winery every weekend as we grew up. "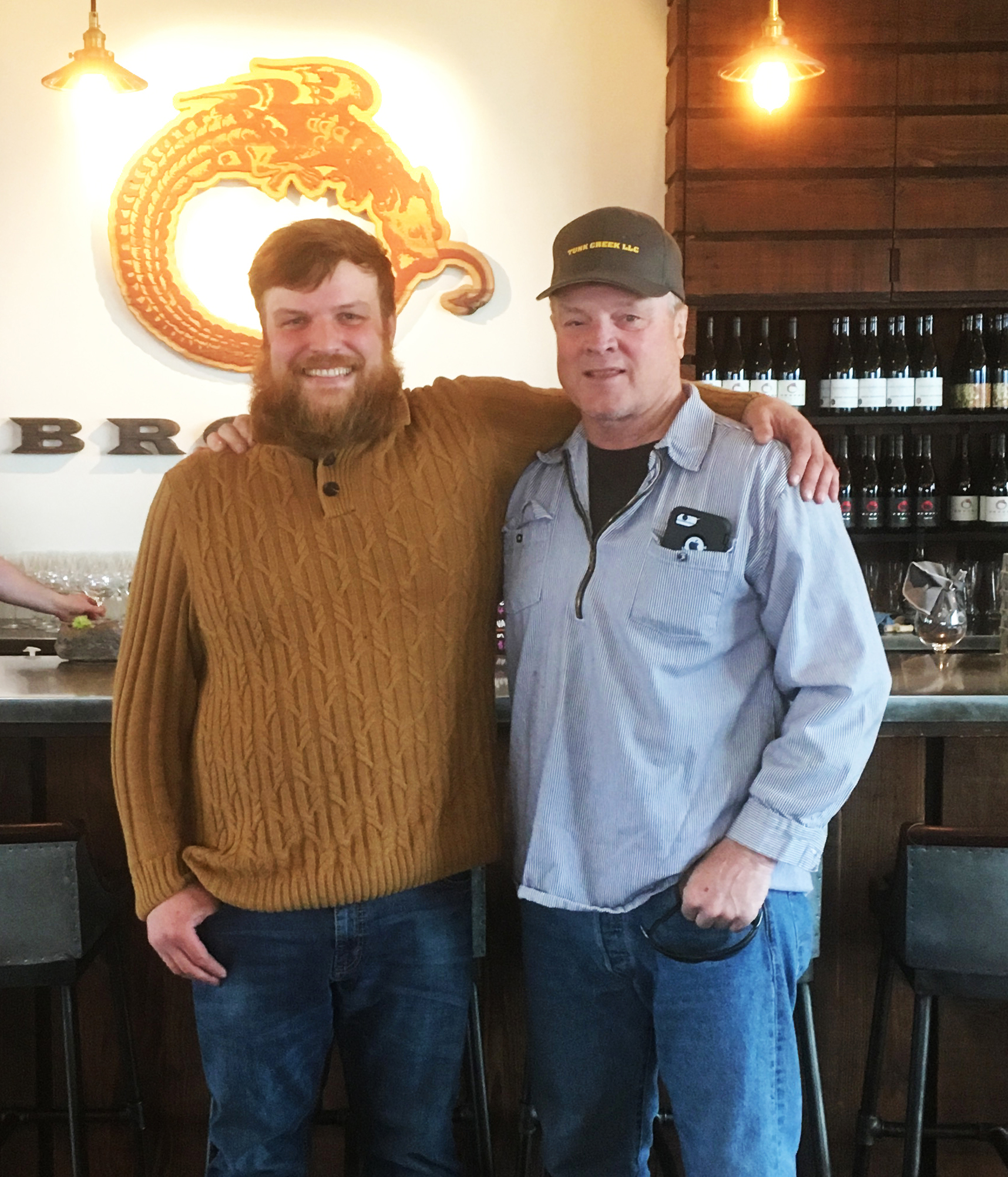 Darrick: "One of my favorite memories of my father is waking up to the sound of him putting wood on the fire in the early morning. The stove would creak and a fresh log would clunk in, and slowly the dampened coals would crackle and the fire would roar back to life. Every morning in the winter months, he never slept in. I love this memory because it's always been a warm reminder of the sometimes thankless things my Dad would do for the good of our little family day in and day out.
I've tried to emulate his examples in my own life, to work hard at the things i love, to be humble, and to cherish my family and friends. The older I get the more those lessons have proven to be the best gift he could have ever given me. Love you Dad! Happy Fathers Day!"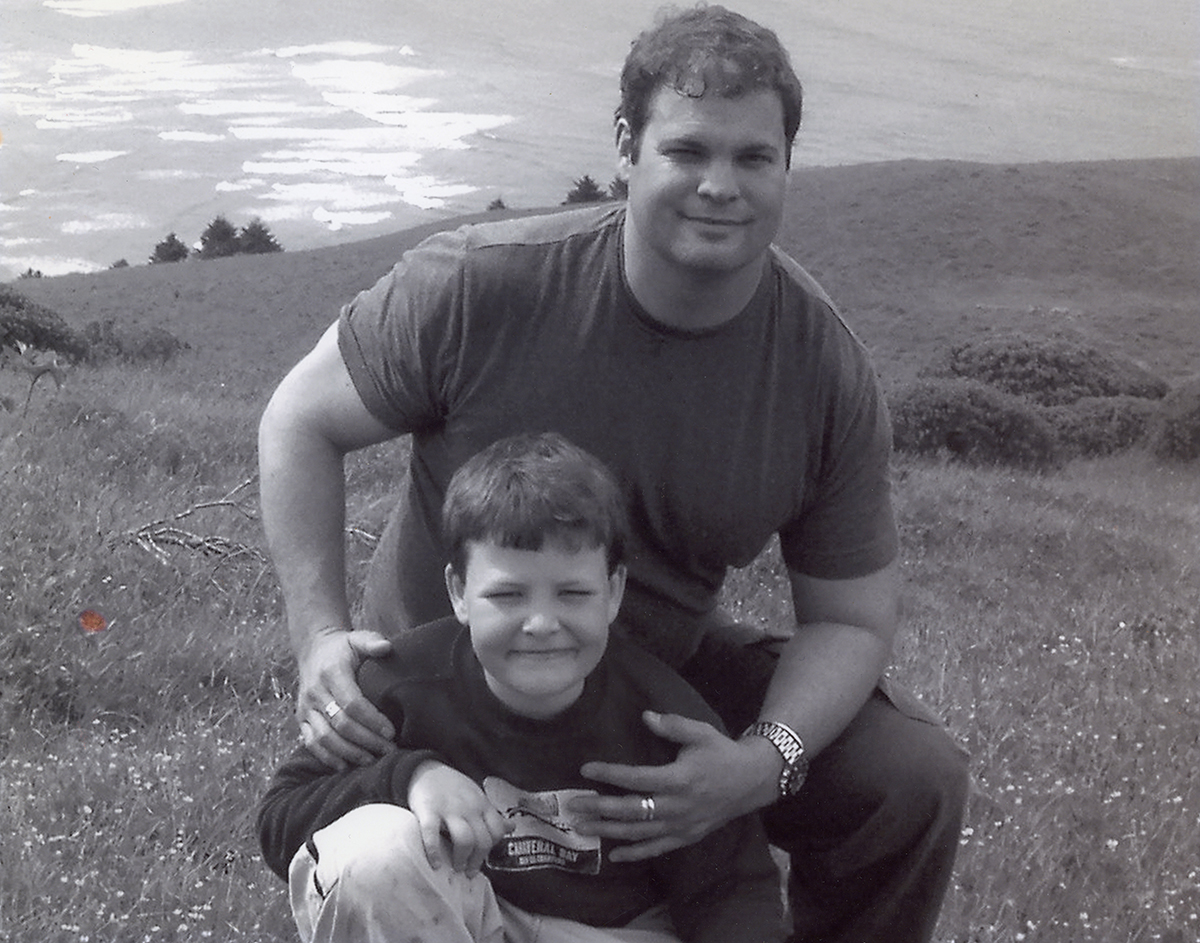 Pascal: "Whatever it is that I have missed in only having my father my first 8 years, I've always felt that he was worth emulating if so many rallied around us after his passing. I know that these people cared because my father cared for them and they felt a genuine loss. Those that stepped forward taught me to care about people much like he did. And where I could feel bitter, I instead feel proud to be associated with those that loved him. I hear from those that knew him that I resemble him and that he would be proud of me. All I know is that I feel incredibly fortunate for those I do have."
Rastaban
Rastaban is a star, literally. It is named after the star that is the eye of the dragon in the constellation Draco.
In 2003, Jimi wanted to create his highest end pinot noir. That first vintage was bottled just months before he passed and never saw the wine to market. It started as a wine that was stylistically "bigger" than the Janus and his other pinots. Overtime, we have continued to produce this label ensuring it is the reflection of our old vine Estate Vineyard.
2017 was a much cooler vintage than 2016 and produced delicious wines. 600 cases produced.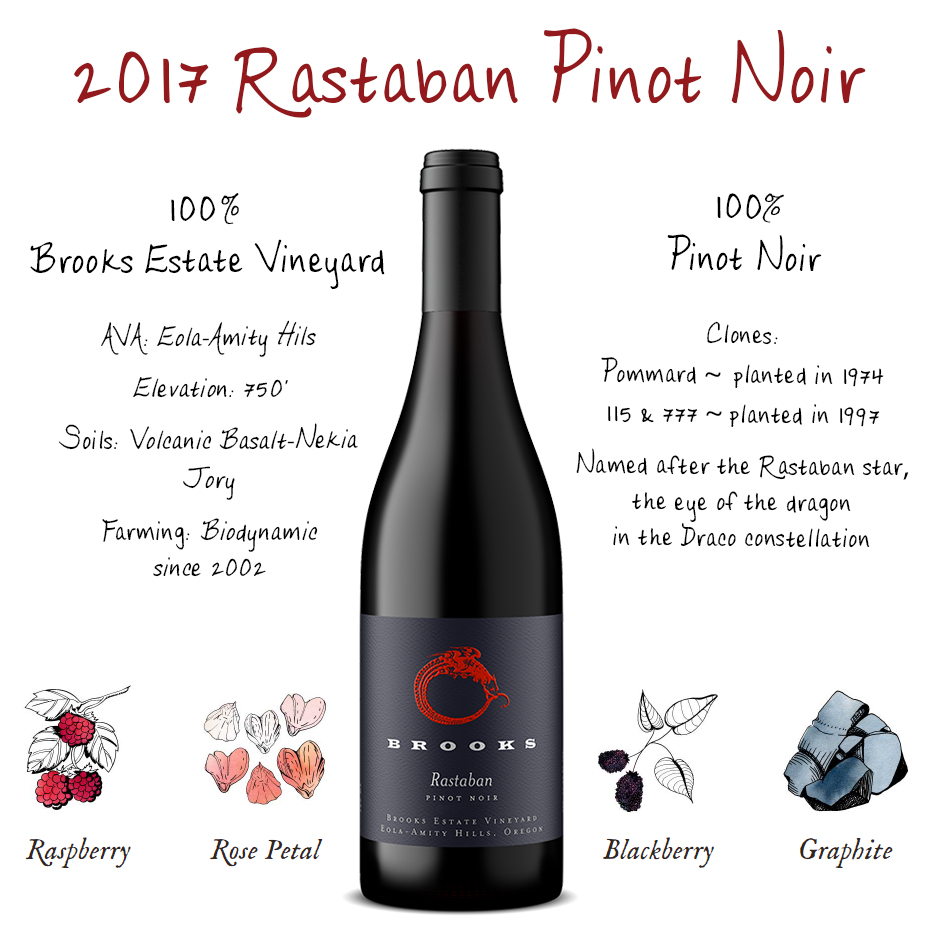 Deals For Dads And All That Love Them!
In the tasting room today we are treating Dad to a complimentary glass of 2012 Rastaban. 2012 was one of the best vintages in Oregon producing beautifully balanced wines. This wine is drinking beautifully right now and still has years ahead!
We want to extend the same opportunity to those who can't make it to the tasting room–we have added the 2012 Rastaban to the website for TODAY ONLY. Only 300 case produced and less than 30 remain.
And to get your free glass? How about a discount! As another gift for dads, all wines on the site can be purchased for 20% off using the coupon code FATHERSDAY20. This includes the 2012 and 2017 Rastaban. And we know dad will be willing to share :).
Finally, if you want to take advantage of the best benefits we offer, give dad the 12 bottle club membership and he will get 25% off all case purchases throughout the membership.
Given the heat around the country, we recommend selecting cold chain shipping. If you buy six or more bottles, ground shipping is still complimentary and you will only be charged the difference for the cold chain. Please note, the 20% discount does not apply on top of club discounts.
I miss my dad, Jim, everyday and it is hard to believe he left us 20 years ago. At home though, we shift all of our dad celebrating to my husband David!
David got to go golfing this morning for Father's Day. When he gets home and the adult children decide to get up, David will get his Franklin Steak book and Carter Country steaks. For the rest of the afternoon, he has requested we all engage in a ping pong tournament in the back yard while he cooks. Should be a fun day and I hope yours is too!
Always here for you: [email protected] cell: 831-238-4828.
All my best,
Janie