Dear Friends,
Happy August! How can that be?? Regardless, I hope this finds you safe, healthy and hopeful!
This week marked a milestone in our cellar…the last bottling of the year! While the work in the cellar never stops, COVID did throw it's own wrench into our plans. At the beginning of 2020, we had a nice spaced out bottling schedule February, April, May and July. With COVID shutting down 70% of our business in March (30% tasting room and 40% restaurants), one of the first things we did was push back our bottling dates. But, we could only push it out so far. We have to bottle in order to free up space and equipment for harvest, thus we completed what would have been three bottlings over four months into three bottlings in just five weeks! The production team could not be more exhausted and also glad that it is over! The 2018 single vineyard pinots and 2019 rieslings, Runaway Red and Willamette Valley pinot noirs are resting in bottle for months to come. Great work Chris, Claire, Darrick and Tom!
Leader of The Pack
Our winemaker, Chris Williams, has the longest tenure of anyone currently at Brooks. He worked for Jimi at WillaKenzie and Maysara as his assistant. He became head winemaker at Brooks the spring after Jimi passed away. He has been with Brooks for 21 years.
He was recently described as the kindest human on the planet and so very many would agree with that. Chris shares a passion for Jimi and carrying on his legacy for him, his son as well as himself. He consciously stays true to Jimi's founding philosophies in farming and winemaking. While I drive the business train, Chris always matches my efforts, intensity and authenticity in the cellar and it shows in our wines.
When asked what he loves about his job, his answer is not "the wine". For him, it is the process. The endless hours of harvest, the physical grind in the cellar, all of that work resulting in a product that brings joy to people. He couldn't be farther from the "executive" winemaker type. To see him in the cellar, you likely wouldn't be able to distinguish him as the winemaker as he is in the weeds working as hard as his team. His leadership style? Well the best one there is, by example.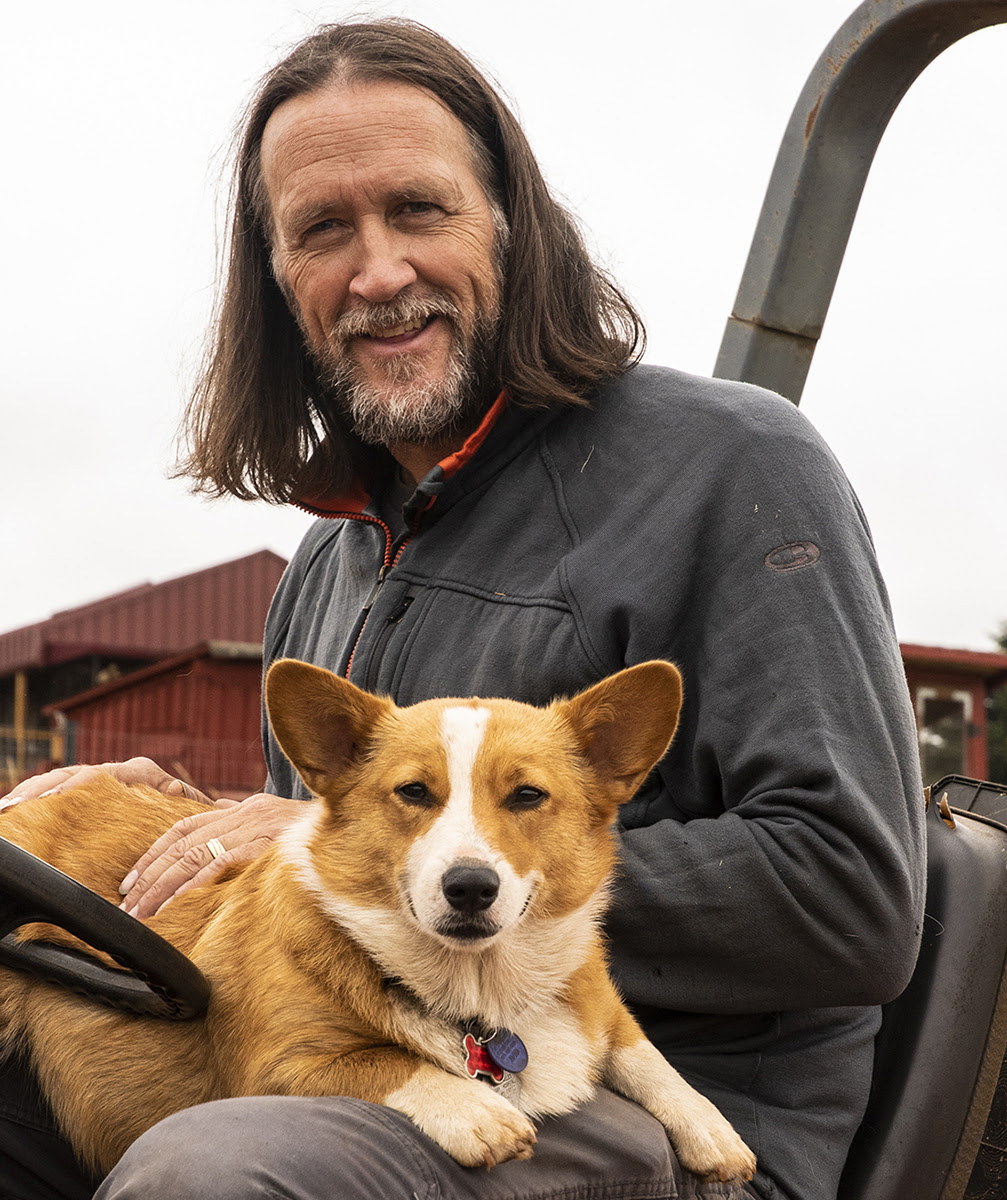 When Chris is not at work, he enjoys mushroom forging and rock hunting (he hasn't found kryptonite just yet). He loves doing home improvement projects on his house and in his yard. This week, our Director of Marketing, Jilllian, interviewed Chris and Stella. Worth a few laughs for sure!
Our Flagship Pinot Noir
The very first pinot noir we made in 1998 was the Janus. Janus is the Roman God of balance, the God of doorways, looking back and looking forward. It is the wine known across the country that defines the Brooks signature style. It is beautiful, complex, shows restraint, notes of earth, spice and red fruits and always is the most aromatic of our pinots. Chris' approach to the Janus is different than that of his single vineyards. The Janus is a blend of multiple vineyards. It is predominately Estate in every vintage and that is where he finds the pronounced aromatic lots. He then selects barrels from any vineyard he chooses to find all the components he needs to craft this elegant wine. It is my personal favorite in every vintage. Meet the 2016 Janus Pinot Noir!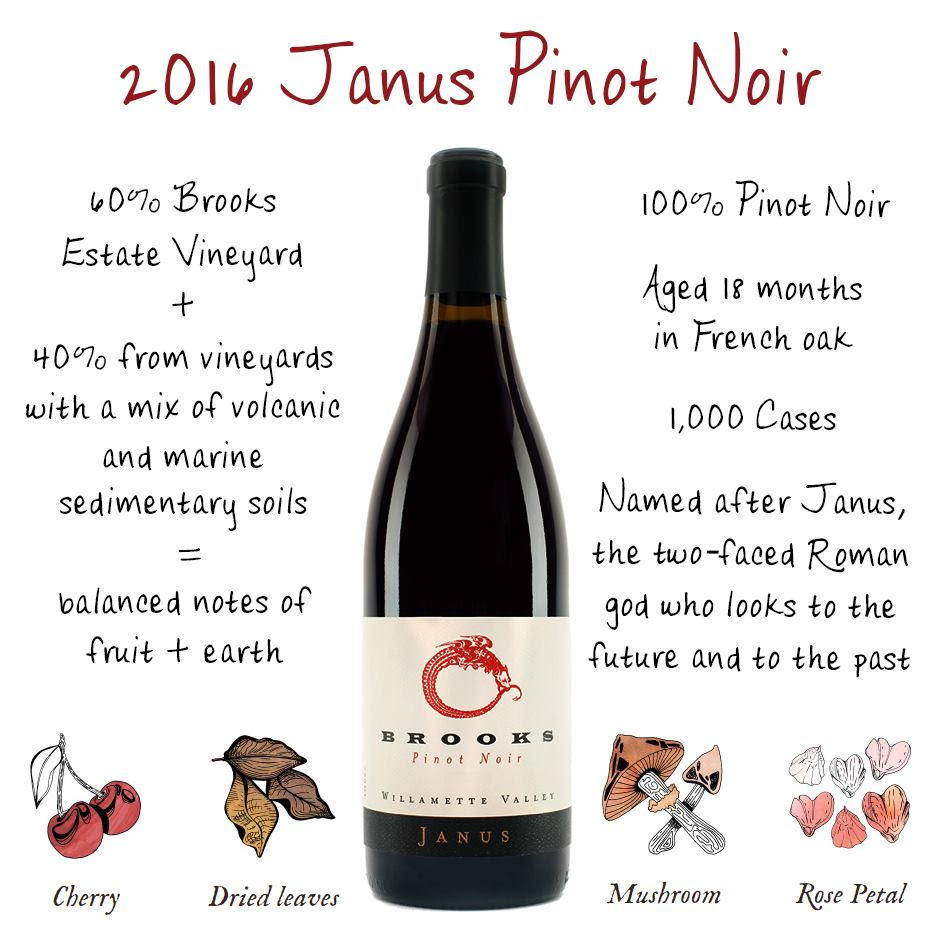 The 2016 vintage made well balanced wines and in many respects reflects similarities to the wines from 2012. We have just 17 cases left of the 2012 Janus and made them available on the website this week. I recommend tasting the 2012 and 2016 Janus side by side. Enjoy!
Loving Our Virtual Tastings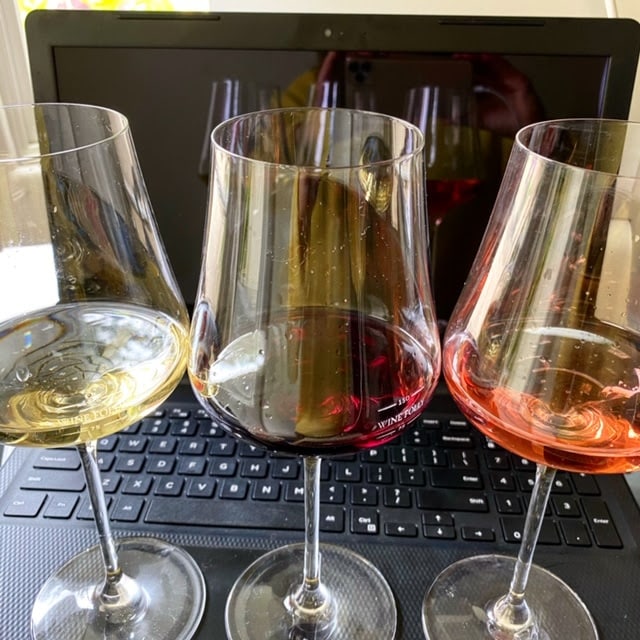 Whether you are a group of friends, a company hosting clients, a family gathering or a wine group, virtual tasting are a fun way to bring people together. I am doing 2-3 a week and loving them. Hit me up and let's get one on the calendar!
Wishing you all a wonderful week ahead and to savor what is left of summer!
Feel free to reach out anytime: [email protected] cell: 831-238-4828.
All my best,
Janie