Dear Friends,
Today is the last day of vacation. We have had a fabulous time as it was the first time we have gone away together since COVID. It didn't quite replace the Brooks trip to Siciliy but it was so fun. Our highlight, for sure, was our four-hour sailboat trip in the San Francisco Bay. We went by Alcatraz, around Angel Island, to Tiburon and Sausalito and ended with a sail under the Golden Gate Bridge surrounded by windsurfers. It was a beautiful day! If you ever are in San Francisco and want to go on a sailboat, definitely look up Captain John Yelda at www.sailingsanfrancisco.com. John and his wife Karen will take great care of you!
Happy Sunday!
---
Almost Done!
All of our whites are fermenting in tank. Almost all of our red fermentations are complete. One of the most laborious parts of the harvest season is cleaning, stacking, and filling barrels.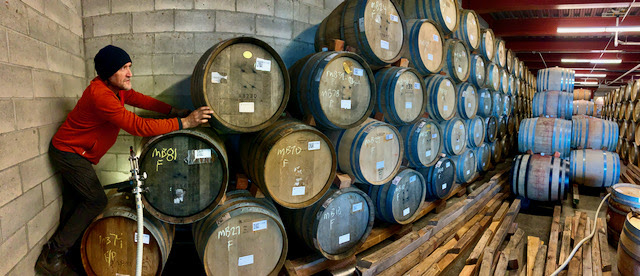 This week and next will be filled with getting all of our Pinot Noir into barrels. Each barrel holds 60 gallons (about 29 cases) of wine. For this vintage, that is over 400 barrels that need to be steamed and prepared for wine. Then comes the extreme physical labor as shown in this photo is how we have to stack our barrels. Once stacked they are filled with wine. The wine will go through a second fermentation between now and the spring. Once the wine is all in barrel, harvest is considered mostly complete.
Our team has had a very smooth harvest and are raving about the wines. Such a change in emotion in a good way after 2020. I am very happy for our team!
---
Wine and Spirits Top 100
Part of our trip this week was scheduled around being in San Francisco on Thursday. As you know, Brooks was named a Top 100 Winery in the world by Wine & Spirits Magazine. It is a true honor. The magazine holds 2 tasting events showcasing the producers in the Top 100 as well as the specific wines that the reviewer loved the most.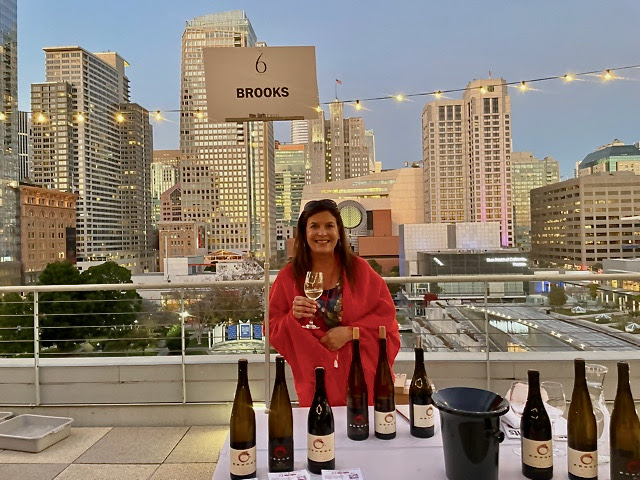 Most of the event was held outside incuding the table I poured at. As you can see, my backdrop was beautiful! It was odd but so familiar to be at a wine tasting. It was lovely to see so many friends.
Wine & Spirits Magazine picked three wines for me to pour:
2019 Lone Star Riesling
2019 Ara Riesling
2018 Crannell Pinot Noir
The wines are showing great now but also can be laid down for a long time.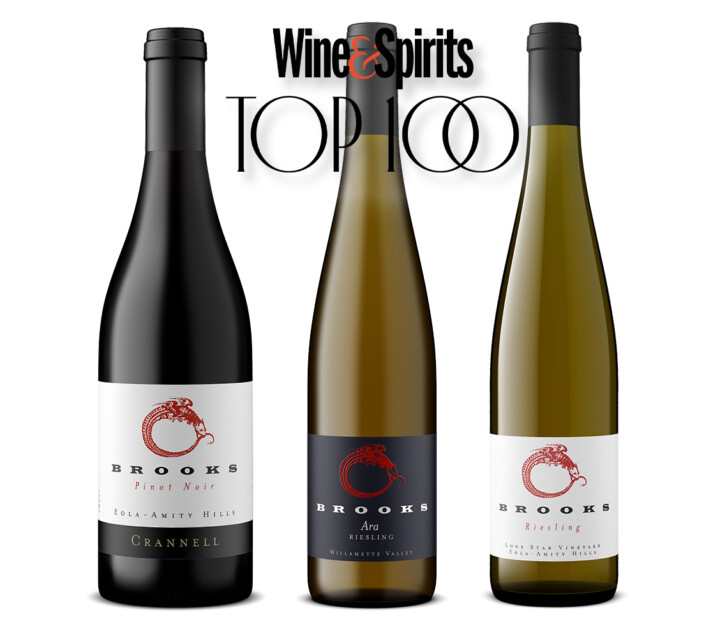 We have created a bundle of these three wines for purchase so you can enjoy the tasting at home.
Member discounts apply at checkout (25% to 15% depending on club)
If you want complimentary ground shipping, just buy two sets so you have 6 bottles in your cart!
Cheers!
Back to reality tomorrow. It was a fun week of wine tasting in Paso Robles, being in San Francisco, playing golf a couple of times and a few nights at a great resort near Gilroy. I am rested and ready to march on.
Always here: janie@brookswine.com or 831-238-4828
Cheers,
Janie