Dear Friends,
It is an exciting week in the Estate vineyard! Bud break is happening in every block: the Pinot Gris, the Old Vine Pommard, the Riesling and the rest of the Pinot Noir! After pruning, bud break is the next big milestone during the growing season. The vines are looking healthy although we could use some rain. We are in Oregon. Rainy season isn't over yet,
As you know, with the fire and resulting difficult decisions related to harvest, it was a tough 2020 vintage for us. To see the start to a new vintage has never been more exciting for our team. Signs for a wonderful vintage ahead are here. I feel happiness and hope with new beginnings!
Happy Sunday!
---
Big Goals
I am always pushing to do better, to be better, to make Brooks the absolute best it can be in every way: the quality of our wines, our service, our experiences, our wine club, our team….it is an endless pursuit and motivates me to no end! It is fuel for my soul.
I view the Wine Club as an opportunity to build a national family of Brooks lovers. Whether you live near or far, my newest goal is to build the BEST Wine Club in America and I need your help!
I want input from those that belong to our Wine Clubs AND from those who don't. Input from everyone will give me the best understanding.
What are your favorite benefits from any Club you belong to?
What is your favorite benefit of being a Brooks Wine Club Member?
Why are you a Brooks Wine Club Member (besides the wine quality!)
What benefits would you like to see added to our Club?
If you are not a member, what benefits would it take for you to join?
What would make us the BEST Wine Club in America to you?
Any other thoughts you would like to share?
Everyone who responds to two or more of these questions by the end of day, Friday, April 23rd, will receive a gift from me. Your input is invaluable to me! Please acknowledge in your response whether or not you are currently a Wine Club Member. Email your response to [email protected]. Thank you for your input and support! I truly believe that together we can build the best Wine Club in America.
See What the Club Already Orders
---
Chef Norma Is At It Again!
We love being able to share Chef Norma's Monthly Perfect Pairing video with you so you can enjoy her delicious food no matter where you are. I am going to have to make this one myself since I won't be going to Oregon in April. I love tartare and one of my favorite wines at the moment is the 2017 Toluca Lane Pinot Noir. And if you watch these regularly, you know Chef Norma's signature move……check it out!
---
Last Call For The Beyond Brooks with Celebrity Chef Elizabeth Falkner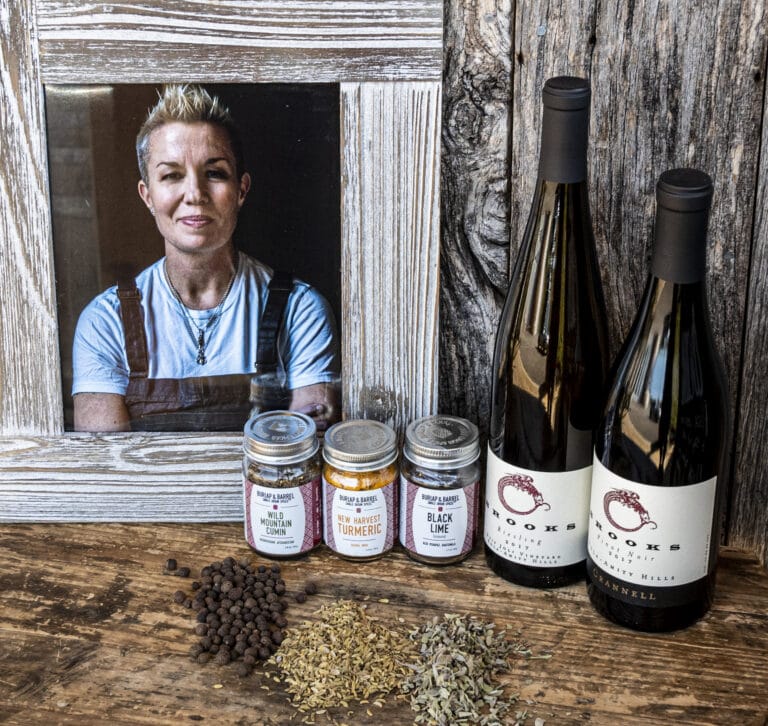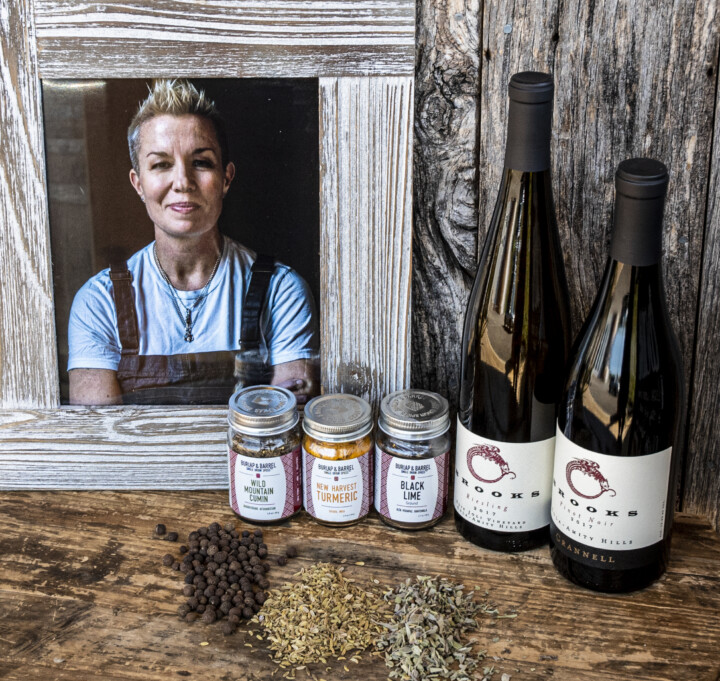 A few years ago at Pebble Beach Food and Wine, I was at a reception waiting for lunch to start. Our wine was going to be poured with one of the courses. I sat and sipped bubbles with a very nice couple from Southern Califonia. It turned out they were the parents of Chef Elizabeth Falkner, who happened to be cooking at the lunch. Towards the end of the lunch, they brought Elizabeth over to meet me. it was such an honor!
The next day at the Grand Tasting, her cooking station was directly across from my pouring table. Pebble Beach Food and Wine is a huge event so I considered it serendipitous. I made sure she and her team had full glasses of our Sparkling Riesling throughout the day and we talked about having her up to the winery for a dinner. We had that dinner two years ago and it was fabulous. She and Chef Norma hit it off and have become friends.
The timing of this Beyond Brooks, including Elizabeth, had a couple of strategies behind it. First, it makes an excellent Mother's Day gift. Secondly, it is on the day of Chef Norma and Cellar Master Darrick's wedding. Elizabeth will be cooking and doing the event live from Brooks and attending the wedding after! She is a lovely person and I am honored that she will be back at Brooks. I love the connections and friendships we make in this industry!
Be sure to join us May 8th for this Virtual Event!
Included in this bundle:
1 bottle of 2017 Brooks Crannell Pinot Noir
1 bottle of 2017 Brooks Bois Joli Riesling
An assortment of spices from Elizabeth's favorite spice company, Burlap & Barrel: Wild Mountain Cumin, New Harvest Turmeric, and Ground Black Lime
Additional spices and ingredients for Elizabeth's recipes: kale salad with a cumin and black lime vinaigrette and kitchari (an ancient Ayurvedic dish consisting of Mung beans and rice).
Cooking demo and webinar with Elizabeth Falkner, Janie Heuck (Managing Director of Brooks), and Bree Stock (Master of Wine) on Saturday, May 8th at 1pm PST/4pm EST*
Cost per pack: $99
Cutoff for orders is April 26th.
---
I look forward to all of your input! [email protected] or 831-238-4828.
Sit back and pour a glass tonight and toast to bud break and new beginnings!
Cheers,
Janie