Dear Friends,
I sure am fortunate to live in two beautiful places that are epic for the sunrises and sunsets. I experienced both of the above photos this week. I had a wonderful six weeks in Oregon and am now back at home in California. It was a busy but wonderful final week at the winery. Our team completed performance reviews in between welcoming so many guests. We had our monthly Wine Club Virtual Happy Hours that were so fun! Our county was moved from high to moderate risk for COVID allowing us now to have parties of 8 and up to 50% capacity. Our team is still abiding by all issued safety protocols. Things seem to be improving with cases dropping which is great.
We had our ninth Beyond Brooks yesterday. It was wonderful. All sorts of new grilling tips and the discovery of a delicious homemade rub made in collaboration by our guest, Jordan Mackay, and Chef Norma. There was a conversation that this rub is so good it may need to be made and sold on a larger scale! And a huge thank you to all that supported the Beyond Brooks series. We are working on Season 2 which will begin in September.
I wanted to share a few stories with you today about some very influential people in my family's life. And no month would be complete without Chef Norma's Perfect Pairing. If you haven't watched her videos, don't miss this one, as it is the last pony whip before she chops if off.
Thank you for reading. I am alwalys here: janie@brookswine.com or cell: 831-238-4828.
Cheers,
Janie
---
The Four H'S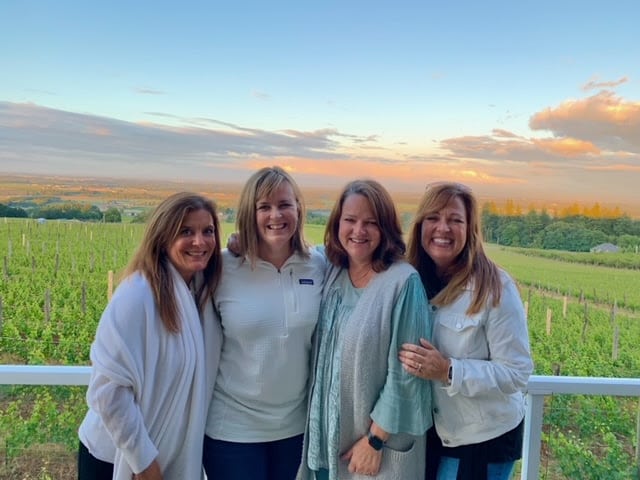 I first met Don and Carolyn Byard shortly after Jimi passed away. Don and Jimi had met in Jimi's search for Riesling and Don happened to have 5 acres that he planted in 1973. Don trusted Jimi to farm his vineyard biodynamically and they planned and talked of Jimi's dream to ultimately purchase the vineyard from Don. I was unaware of all of this at the time Jimi passed away. I learned how special the vineyard was to him as that is where we had his memorial service. Don and Carolyn took great care of me from the first moment I met them and have brought me to their family. We have since purchased the vineyard which is know as our Estate.
Don and Carolyn have 3 daughters, Holly, Heidi and Heather. Many of you know Heather. She is our Director of Wine Club Happiness and has been at Brooks since 2008. If you come to the tasting room often, you are also likely to know Heidi, who has worked with us also for over a decade. Holly lives in Bend so we don't get to see her as often. We were all fortunate to get together last Tuesday for a bit. They consider me their fourth sister and Don and Carolyn treat me like one of the daughters, too. They have all renamed me Hanie to make me feel included in the family for real. Haha…the 4 H's.
---
The Triplets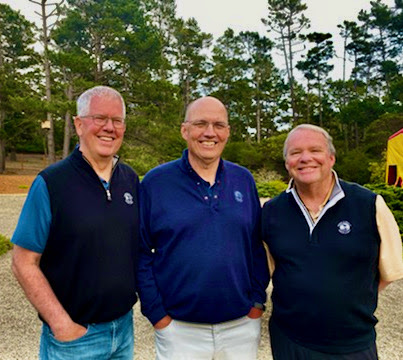 In 1994, my husband, David, and I had just returned from interviewing and home searching in Hilton Head, South Carolina. David was ready to leave public accounting after a decade of working for KPMG in Phoenix. A client of his had made him an offer in South Carolina. We had vacationed in Hilton Head and thought it was worth consideration albeit very different than our life in Arizona. Upon arriving home, David was asked to interview at Doubletree Hotel Corporation that was based in Phoenix. With David's SEC experience, he was hired as they were getting ready to take the company public, and thus, it was cemented that we got to stay in Arizona. That was the start of a new era that was transformative for our lives.
In his role at Doubletree, David worked closely with David Stivers and Bill Perocchi. The three share a deep work ethic and the drive for perfection. After major milestones, including taking Doubletree public and acquiring hotels across the country, the three of them were all posed with an amazing opportunity in 1999–to work at the Pebble Beach Company. Fast forward to now, 2021, with three US Open's under their belts and two decades of the AT&T Pro-Am Tournaments, Concours D'Elegance, and many other events. They persevered through 9/11, a recession and COVID. The Pebble Beach Company has never been in better shape because of these three and, in particular, the leadership of CEO Bill Perocchi.
Last night, we attended Bill's retirement party. While we knew his retirement was coming, I cried when it was first announced. Bill's decision to hire David back in 1994 and to bring him to Pebble Beach changed the course of our lives in such a positive way. We will be forever grateful for the opportunities Bill has given us. The support and amazingness, too, of his wife Nanci has been invaluable to us as well. Their generosity and grace has made a positive impact on our community, our lives, and our children's lives. We are lucky to know them and call them friends.
---
June's Perfect Pairing
Chef Norma's creativity continues to amaze me and bring joy to our guests. This month's perfect pairing is pan-seared halibut with grilled shitake mushrooms and a carrot-miso puree. It is paired with the 2018 Bois Joli Riesling (medium dry). It is delicious!
The Bois Joli Riesling is one of my favorites. They are old vines planted in the Eola-Amity Hills and the 2018 wines are gorgeous! It is medium try so just a hint of sweetness to balance this dish. Cheers!

---
The Lemon Shade is Open!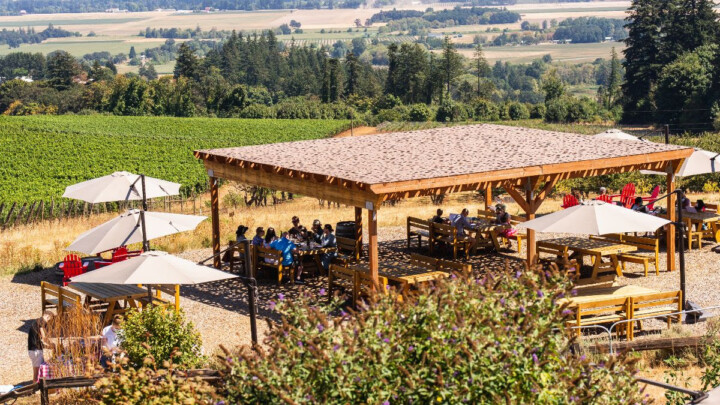 On June 1, we opened the Lemon Shade Area for seating. It is nicknamed the Lemon Shade because the cut outs in the shade roof are shaped like lemons. We offer full service including flights and our food menu in this area. Winemaker, Chris, made us picnic tables that hold 8 people comfortably. There are even fancy porta pottiesfor guests in this area complete with air-conditioning and music. Reservations are open through June in this area. If you are coming July 1 or later, email reservations@brookswine.com to book your table.