Dear Friends,
Happy Memorial Day weekend! I hope it is relaxing and the weather, wherever you are, is feeling like summer. It is a beautiful weekend here in Oregon. It is also a very busy weekend. Historically, Memorial Day weekend is one of the busiest wine tasting weekends in the Willamette Valley. Last year, it was the first weekend we could reopen but we chose to wait and open up more slowly. This year, we are feeling the energy!
We are down to the final call on a few things, both of which make great gifts for Father's Day!
Happy Sunday!
---
Vineyard and Garden Experience
For years, we hosted an elevated experience in an RTV in our vineyards. With COVID, we modified it to become a walking tour. Check it out!
Our Vineyard and Garden Experience is offered daily. You are hosted by a team member with substantial knowledge about grape growing and winemaking. You get to walk through and drink wines from our Estate Vineyard, some of which are extremely limited! It also includes a cheese and charcuterie board. The experience lasts 90 minutes.
Price Per Person $65 | Club Member Per Person $55
Book your Garden and Vineyard Experience
---
He Was Going to Work Harvest with Jimi 
As many of you know, our Beyond Brooks series has been a huge success this year. There has been a connection through people or process to every partner we have chosen. Our last event for the season is with Jordan Mackay. Here is how he tells the story:

"In spring 2004 on a trip to the Willamette, I met a tall, charismatic, infectiously enthusiastic winemaker named Jimi Brooks. In our brief time he convinced me of many things: the virtues of biodynamics, the potential of Oregon riesling, and to put my writing career on hold to come out and work harvest with him. Mesmerized, I accepted.

Early September, just about to drive up, I received a call: Jimi had died suddenly, shockingly, heartbreakingly of a heart attack. Jimi's friends banded together to produce that vintage, and I never made the trip. His entire project would have disappeared had not his younger sister, Janie, stepped up to steward the fledgling business—Jimi's only material legacy—until his 8-year-old son, Pascal, could take over (if so he chose).

Not only did Janie, who lived in California (and still does) and had no experience in wine, take over Brooks, she has taken it farther than anyone could have imagined, while never straying one step from her brother's vision, championing riesling, bringing Brooks into the upper echelon of wineries, and becoming an industry leader.

Thus I had no hesitation when Janie invited me to be a part of her Beyond Brooks series, pairing Brooks wines with various foods, experiences, and producers of all kinds. So here's what you get for my June edition, the last of the year (and perfect for Father's Day). Please join me and the Brooks team in this great deal!

My bundle includes:
1 bottle of 2018 Brooks Ara Riesling
1 bottle of 2017 Brooks Rastaban Pinot Noir (I selected both wines to go with steak)
Franklin Steak Cookbook by me and @franklinbbq
Special steak rub, which I created especially for Brooks
Cooking demo and webinar with Jordan Mackay, Janie Heuck, Managing Director of Brooks and Master of Wine, Bree Stock on Saturday, June 12th at 1 PM PST/4 PM EST

All this for: $99 (ground shipping included)
For each purchase, Brooks will donate $5 to 1% For the Planet, supporting environmental solutions."

Last day for sales: Monday, May 31st
Bring Your Grill Game with Jordan!
---
Next Milestone in the Vineyard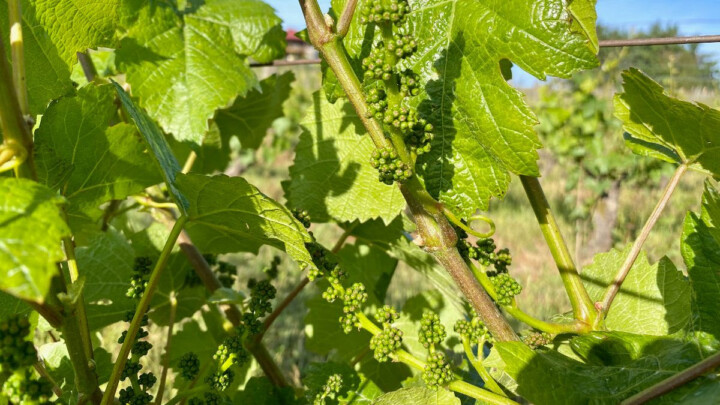 The next milestone in the vineyard is flowering. These little bunches will flower in the next 2-3 weeks. At that point, for at least a week, we hope for dry, calm weather and no rain. Rain during flowering can have a significant impact on resulting yields. In 2020, we had rain during flowering and yields were down over 40% across the Willamette Valley. The forecast looks good in June, albeit we do need more rain. Fingers crossed for the best elements for the vines! Ahhh…all in the hands of Mother Nature.
---
Enjoy the long weekend. Thank you for all the love and support.
[email protected] or cell: 831-238-4828
Cheers,
Janie