Dear Friends,
I hope this finds you all healthy and safe. It was a very busy week with lots of meetings with the team. A highlight for sure was the Harvest Dinner Friday night. So proud of the execution of the event by the team as well as Chef Norma's amazing food!
Yesteday, I was distracted multiple times by the rainbows that kept appearing across the valley. At the winery, when we see a rainbow, we call it a "jimbow". Why? My brother Jimi's celebration of life was at the vineyard. At the end of his service, a huge rainbow appeared across the valley. Coincidence? I believe not. We have continued to see "jimbows" on significant dates–the day we broke ground for the new winery, the day we opened the new winery and so many more instances. Yesterday, Executive Chef Norma and our Cellar Master Darrick were at the winery taking their engagement pictures. Our Director of Marketing, Jillian, captured some great shots including the ones above. Jimi sent a "jimbow" blessing of their marriage.
I so appreciate all of you who read this every week. As my loyal readers, you get exclusive access to our Holiday gift ideas before we put them on the public facing website. Please save the link below as you won't find access any other way for now.
Enjoy!
---
Your Holiday Headquarters
As consumers, we see the holidays starting earlier and earlier each year. When you produce a product, the industry standard to get press for the holidays is to have your holiday items ready by July. While I try to make it every year, it is just too much even for the planner in me. I just cannot think about the holidays six months in advance, especially in these times. But we are now ready with our holiday plan for your loved ones, colleagues and clients.
With such a challenging year, I am guessing that our holiday traditions may not be realized this year. We likely will be at home more and toasting each other on screen more than in person. I tried to be very mindful of this as we created our holiday items for 2020. And the recurring theme in my head was comfort and joy.

My whole life, I have been a fan of jigsaw puzzles. Being home during COVID, the puzzling in our house has gone a little off the charts. I think we have done close to 30 different 1000 piece puzzles. This led to the idea that custom Brooks puzzles would make a great stay at home gift this holiday season. We have created two, a collage and one of the tasting room. I have done them both. The tasting room one is challenging, the collage is pretty easy but fun!
I also decided to bring back a past favorite….the cozy red blanket!
And what pairs perfectly with puzzles and blankets? WINE of course. We have put together 14 different themed wine offerings ranging from 2-6 bottles. We have a nice range of magnums as well. We have craft gift boxes, gift cards and some great non wine items. There is surely a gift for everyone!

---
CHEESE PLEASE!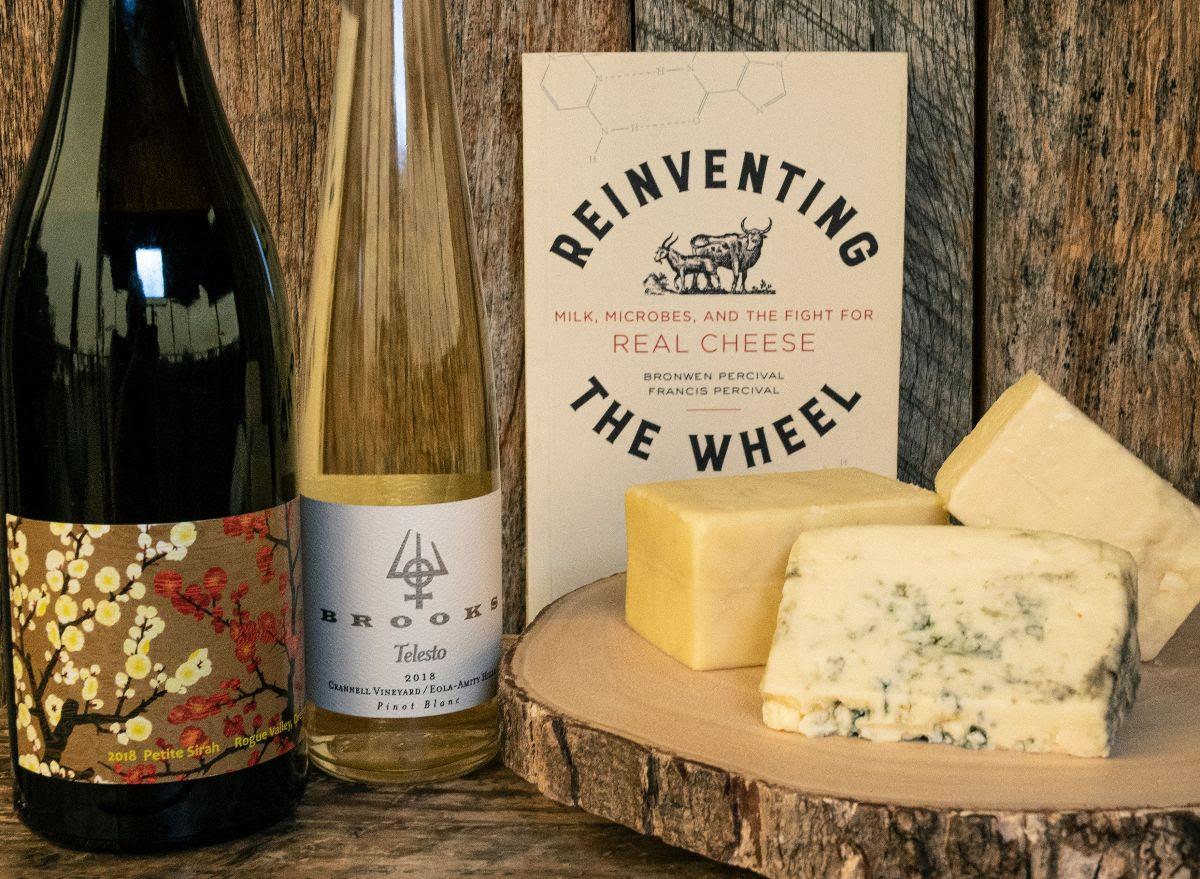 I will be heading to Rogue Creamery next Sunday to plan for our December Beyond Brooks! Join us as we explore Southern Oregon wine country, the international award winning Rogue Creamery cheeses and the authors of Reinventing the Wheel. So many good things in one place for $99!
This bundle includes:
• 1 bottle of 2018 Brooks Telesto Pinot Blanc
• 1 bottle of 2018 Brooks Terue Petite Sirah
• The Reinventing the Wheel book
• A 3 cheese pack from Rogue Creamery: Mount Mazama Cheddar, Crater Lake Blue, and Chocolate Stout Cheddar.
• A Webinar on Saturday, December 12th at 1pm PST/4pm EST with Bronwen and Francis Percival, authors of Reinventing the Wheel, David Gremmels, owner of Rogue Creamery, Janie Heuck, Managing Director of Brooks Wine and Master of Wine, Bree Stock.
---
COVID cases in Oregon continue to rise. The Governor is announcing more restrictions. I hope that across the country and within Oregon, we all take the necessary precautions and stay safe. We continue to be very safe at Brooks and I am so grateful for our team and our guests for their support.
Don't ever hesitate to reach out: [email protected] or my cell 831-238-4828.
Best,
Janie