Dear Friends,
I hope this finds you all healthy and safe.
We were able to reopen outdoors this week. Oregon has come up with a formula-driven classification system applied to each county that determines how businesses can operate. At this time, most counties, including ours, is in the "extreme" risk category. The primary measure to classify a county is based on cases and hospital beds. Under "extreme," we can provide wine and food service outdoors only and, 75% of the space has to be open air. We are fortunate that our deck and lower patio meet the criteria. And yes, I was up all night one night this week stressing that we wouldn't meet the requirements. Winemaker Chris when out and measured the spaces for me and we are relieved that we can make it work.
I attended a meeting with staff from the Governor's office this week about the classification system. It seems to be a sound approach, and, as a business, it allows me to plan much better than we were able to before. For instance, as soon as we move to "high," I know we can add indoor seating at certain capacities. And while I look forward to cases going down and us moving to a less restrictive category, I have a feeling we will be staying right where we are likely through January. Now we have to put our money on Mother Nature to keep the weather as nice as possible. Ha! We have tables with heaters on the deck. The lower patio has a big fire pit. We have invested in new fire pit tables for our couches and cushioned furniture seating. Just bundle up and don't forget your blanket!
Happy Sunday!
Perspective
This week I was reminded of the word perspective. The circumstance that brought the word up was a hard one. One of my husband's best friends passed away from a heart attack a few weeks ago. Scott and David met in the Sig Ep Fraternity together at Arizona State University. Scott was in our wedding party in 1990. Scott and David would text each other every time they traveled. They always made sure it was in the middle of the night for the person at home. As part of the communication amongst the fraternity brothers after Scott's passing, one friend recalled a story of their house President saying the word for the semester was going to be "perspective." And while that was impactful to learn about at age 18, it has a much greater application the more years we have lived. With the loss in my life, I lean on the wisdom of having perspective often. It is something I watched Pascal have at a very young age due to the loss he suffered. It is something that I needed to be reminded of during this time as I haven't been looking beyond the trees. I have been deep in the weeds, focused on the business. The livelihood of my team and the legacy of the company are definitely my priorities. It is important, however, to step back and look at the big picture of this pandemic. Lives are being lost. Medical workers are taking risks to care for patients and keep us safe. So many people are out of work and so many companies are struggling. There is hope on the horizon with the vaccine. And there are always things we can be grateful for.
With every situation, some positives arise. David and his fraternity buddies had a zoom call together and committed to doing it more often. David and I watched the live stream on Facebook of Scott's memorial service yesterday. Before this pandemic, this likely would not have been live-streamed. It was nice to be a part of it. It did feel like we were there. Bringing people together virtually has definitely been resourceful and beneficial in so many ways. I expect it to continue for a long time.
Perspective is all about attitude. I have reset mine to think about the bigger picture of this pandemic and how we fit into it. I look forward to preparing how to come out the other side and move forward. Think of the perspective we will have by then!
---
Our First B1 For Beyond Brooks
B! is a real reference. It is used by the companies that are BOTH Certified B Corporations and Members of 1% For The Planet. Brooks and Brew Dr. Kombucha are both B1s! That was one of the reasons we chose them as a partner. Plus, January is national tea month, a great time to learn about fermented tea! This webinar will take you from brewed tea bags to kombucha to wine to……sangria!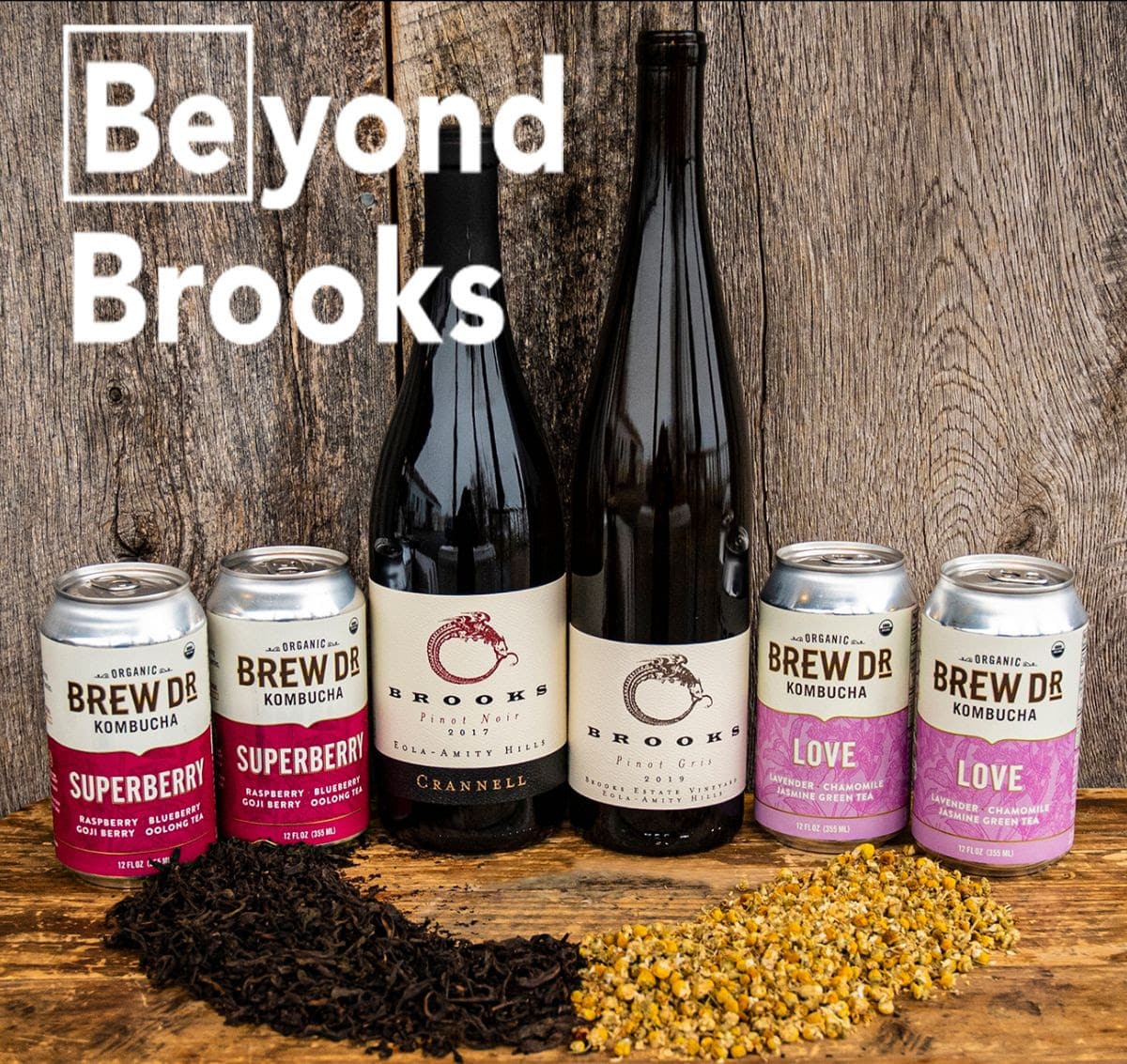 Looking for a gift for that health-conscious, wine-loving person on your list? Look no further than our January Beyond Brooks with Brew Dr. Kombucha!
This bundle includes:
– 1 bottle of 2019 Brooks Estate Pinot Gris
-1 bottle of 2017 Brooks Crannel Pinot Noir
-2 cans each of Brew Dr. Kombucha Love and Superberry
-Brew Dr. oolong and chamomile hot tea bags
-A Webinar on Saturday, January 16th at 1PM PST/4PM EST with Matt Thomas, Founder of Brew Dr., Janie Heuck, Managing Director of Brooks and Master of Wine, Bree Stock
We can't wait to explore the mystical, magical world of kombucha with you!
---
For The Love of Learning
There is a method to my madness in putting together all of our holiday packs. Over the last few weeks, I included gifts that would make everyone happy. Well, this week, I have three for the learner in your life. And if it is the wine they love to learn about, all the better! The wines in these packs are the SAME vintage and the SAME winemaker. What is different is the SOIL type that the grapes came from in each bottle. Soil type has a big impact on the fruit profile of the wines. Explore these trios and learn!

---
To keep the winemaking team learning in the cellar, we have been sourcing grapes that are very rare to find in the Willamette Valley. For that wine lover that knows a lot about the Willamette Valley, these hidden gems will take them on a new journey: muscat made in a dry style, tempranillo and Syrah!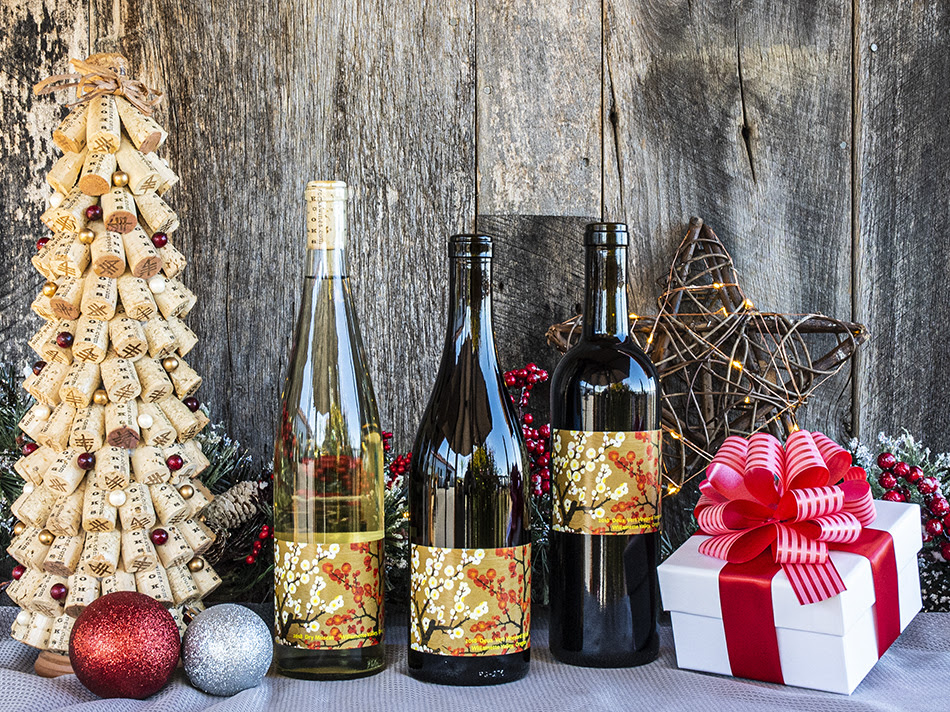 ---
Last Week For Ground Shipping
I mentioned this before but do not procrastinate this holiday season if you are shipping gifts. Please make note of the following dates.
Important Shipping Deadlines
FOR DELIVERY BY CHRISTMAS:
Dec 14th for ground
Dec 17th for 3day
Dec 18th for 2day
Dec 20th for overnight
---
The Holiday Market Has Launched!
We have made a safe way to shop. If you visit the holiday market, all safety protocols are being followed and their are team members to help you. And if you want to shop from home, you can do that using the form below. Safety first!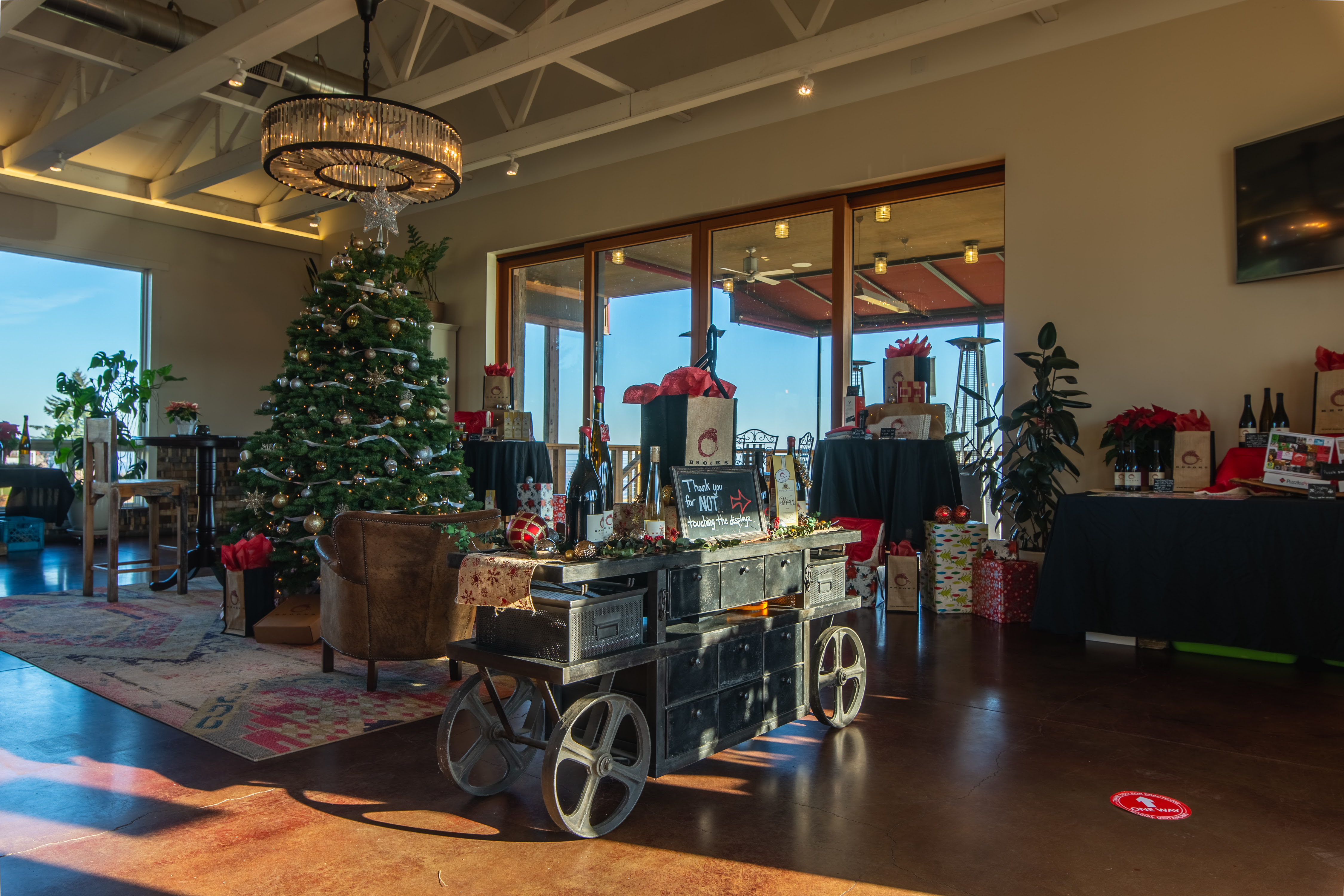 Hopefully, many of you saw the launch of our Holiday Market earlier this week. When it was uncertain when we would be able to reopen, the team came up with the idea of turning the tasting room into a holiday market. In addition to what is in the Holiday Headquarters, we have added books, hats, beer glasses, and lots of food items many of which can be shipped. And a few perishable items that can be picked up if you live locally. To make it easy to order, we have created this order form for shipping or pick up. It includes all wine packs as well as the other items. If you have questions, email [email protected]
---
Zoom or Chat With The Team
We are committed to making your holiday shopping as easy as possible. Daily from 11-4, you can Zoom with a virtual concierge who can show you items and take your order. You can also use the CHAT function on the website.
---
Today I will be finishing decorating for the Christmas holiday. The garland needs to be hung on the balcony. The tree needs a few more strands of lights and all the ornaments. I love the quiet of night, with the tree lit, to sit with a glass of wine and take a pause.
I would love to hear about your holiday traditions:
[email protected] or my cell 831-238-4828.
Stay healthy and hopeful,
Janie