(Part 1 – The Day Jimi Passed Away)
I arrived at his house in McMinnville around 10pm. It was filled with people, the vast majority of which I did not know. Overwhelmed and anxious, I looked for, and finally found, Pascal and his mom, Bozena. The three of us escaped the crowd and went into Jimi's office. Silence. Shock. There were few words exchanged. Bozena and I clearly knew the reality of the situation but Pascal, just 8 years old, did not.
Pascal had a nervous energy and I cannot imagine what was going through his head. Bozena turned to me and calmly said, "Can you take care of all of Jimi's things so that I can just focus on being the best mother possible for Pascal?" Yes. Of course. With kids of my own, that's exactly what I wanted and needed for Pascal. His well-being was the clear priority.
We headed back out to the group. A tall gentleman approached me and said "We need to talk to you." I followed him into the living room where a group was assembled. I recognized two of the people, but as I scanned the room, the rest were strangers. They explained to me that harvest was coming and that over the course of the day, they figured out all of the farmers that Jimi had agreements with for grapes for the 2004 vintage. Back then, it was a handshake agreement with the growers, and Jimi's friends wanted to make sure Jimi's commitments were fulfilled.
This group, this cadre of angels, all offered to take the fruit that year and make the wine for free. Not only was it the commitments they wanted to honor, they went on to explain that Jimi was blazing trails in biodynamic farming and restoring the reputation of Oregon Riesling.
Then, they made sure that the following was impressed upon me: the winery was the only thing he had to leave to Pascal and that Pascal was his everything. And with that, they asked for my assistance on the business side of the winery. As I nodded "yes," to a lot of strangers who are now dear friends, I knew the legacy would continue…at least for the 2004 harvest.
A huge shout out to this group that had the vision to make this happen. They could have easily offered to take the fruit into their own programs and shut Brooks down. Honestly, I would have said yes to that, too. But now, I am so very grateful for their support and vision. It is our legacy and theirs. Cheers to these angels.
Chris Williams, Maysara Winery (now with Brooks)
* David Autrey and Amy Wesselman, Westrey Winery
* Harry Peterson-Nedry, Chehalem Winery
* Jay Somers, J Christopher Winery
* Jim Prosser, J.K. Carriere Winery
* Josh Bergström, Bergström Winery
* Laurent Montalieu, Solena Cellars
* Luisa Ponzi, Ponzi Vineyards and Winery
* Patty Green/Matt Berson, Patricia Green Cellars and Love and Squalor Winery
* Sam Tannahill and Cheryl Francis, Francis-Tannahill/A to Z/Rex Hill
* Steve Doerner, Cristom
* Tad Seestedt, Ransom Wine
When you visit the tasting room, make sure to check out our barrel walls. I received barrels from all of the wineries listed above and had their logo engraved for the wall. They literally are with us every day in the winery! Here are a few examples.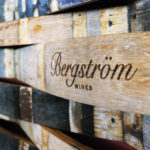 For our 20 year anniversary in 2018, we conducted interviews of this group as part of our Legacy Celebration. Watch the video to hear from them about their favorite memories of Jimi and Pascal.
Cheers!
Janie