It was 9:13 on Saturday morning, September 4, 2004. I had just woken up, which is odd for me as I am an early riser but I must have needed the rest. My husband let me know he had to run into the office for a bit, said it was beautiful outside and suggested we make something fun for dinner. I love to cook so it sounded like a great idea.
I went to the kitchen, made some coffee, grabbed a couple of cookbooks and headed to sit outside on our deck. Our house is an old Spanish style built in the early 1920s with a deck overlooking beautiful oak trees that are over a hundred years old. It is a very quiet neighborhood where sometimes you can hear the ocean but typically just the rustling of the squirrels hopping from tree to tree.
Excited for the evening, I began perusing recipes. Strangely, I could hear music playing. It was a soft, slow song and I soon recognized it as Amazing Grace, a song that washes over me with memories of my parents as it was played at both of their memorial services in 2000. I thought to myself that someone close to a neighbor must have died and didn't think anything more of it. I continued looking through my cookbooks, picked out my recipes and headed downstairs to make my shopping lists.
As I was writing my list, the phone rang. It was my sister-in-law, Bozena, Pascal's mom. She was upset. She explained she had just called Jimi to arrange when to drop off Pascal with him for the weekend and that Jimi's friend had answered the phone saying Jimi had a heart attack and to please come to McMinnville as soon as she could. This made no sense to me as we had no heart history in our family. When I asked if he was OK, she said she didn't know and was just told to get to his house. We hung up and I decided to call Jimi's house. The phone was answered by Jimi's friend and when I asked if he was OK, I was told the paramedics were there but they couldn't resuscitate him. He was dead on his kitchen floor.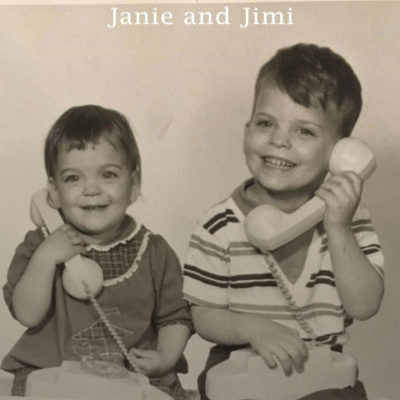 Confusion, emotion, disbelief, and panic set in. I was in California. I needed to get to Oregon. The next hours, days and weeks that went by were blurry to say the least. I met so many people in his life who wanted to help. There was so much to take in, to deal with, to schedule…and then there was the winery business he had which I knew nothing about.
But one of the moments that I will never forget was when I picked up his ashes and received his death certificate. His pronounced time of death was 9:13 a.m., Saturday, September 4, 2004: the exact time I woke up that day, and within that hour, had heard the slow wafting harmony of Amazing Grace. The world woke me up and the course of my life would change drastically from that day on.
When I reflect on the fifteen years since that horrible day, I miss him. He was my last immediate family member, my only sibling, eighteen months older than me. We lost our parents in 2000, and you expect to lose your parents at some point, but not your sibling, so young and so soon after our parents.
Yet I am so grateful for the gifts I have been given by carrying on his legacy: the winery, the "close as my own kid" relationship with Pascal, the "close as my own sibling" relationship Pascal has with my kids, the abundance of incredible, generous, awesome friends in the wine industry, many of which were his friends too and of course, all of YOU who have supported me and Brooks for all of these years.
There is so little in this life that we control, but for the things we can, the things that can bring hope, peace and joy to our lives, you have to go after them with all that you have. In Jimi's 38 short years, he was a role model for living life to the fullest through his experiences, his travels and in each and every conversation he had with friends, strangers, and everyone he came into contact with. That is one of the many teachings he left us with.
I hope that our legacy brings inspiration to your daily life as it does to mine.
In hope, honor, heart and joy,
Janie
(Read Part 2 – The Legacy Continues)