Dear Friends,

I hope this finds you all well, safe and happy. Thank you for all of the birthday wishes. I had a lovely day.
Join me in hoping for the fires to end in the Napa Valley. It is unbelievable that this region has been devastated by more fires. It is such a beautiful place with wonderful people. My heart goes out to all.
The production crew spent Thursday at Radiant Sparkling disgorging our 2016 Sparkling Riesling (photos above). This is only our second vintage of this wine. There are just 800 six bottle cases. We will be releasing it November 1st with a prerelease to our wine club members. Perfect for the holidays!
Speaking of the holidays….I know it is early but as you are planning, I want you to know what Brooks will be offering. We will be curating bundles that will be perfect for holiday meals, entertaining and gifting. We have a robust Corporate gifting program for clients and team members that will meet every budget. We are also thinking comfort….custom Brooks puzzles and soft blankets. Covid creations such as Virtual Tastings and Beyond Brooks will be available too. And if you are undecided but you want to support us, we will be rolling out gift cards soon! If you have ideas of other things you would like us to offer, please let me know!
Cheers!
My Virtual World
A year ago, I invested in a new website that would support E-Commerce. At that time, my thoughts were about wanting to create internet sales as a viable sales channel to help diversify our existing revenue streams. We launched the new site in February. Lucky for us as we didn't know it was coming, we were ready for the COVID world of shopping!
This week, I made another investment in technology. I believe that virtual events and gatherings will continue long into the future. I am happy to announce a new partnership with a company called Welcome for a new virtual event platform. The folks at Welcome like to use the analogy that Zoom is the Motel 6 of platforms and Welcome is the Four Seasons. We will be launching our inaugural event using Welcome on October 10th for our first Beyond Brooks webinar. All Brooks Virtual Events going forward will be on the Welcome platform. It even has a photo booth!
The final few months of 2020 is the ideal time to schedule Virtual Tastings for holiday parties and family get togethers since so many of us will not be traveling. It takes 3-4 weeks to plan and get the wines in all the participants hands so don't wait to reach out to schedule your Virtual Tastings for the holidays!
Beyond Brooks-November with Floréal Cider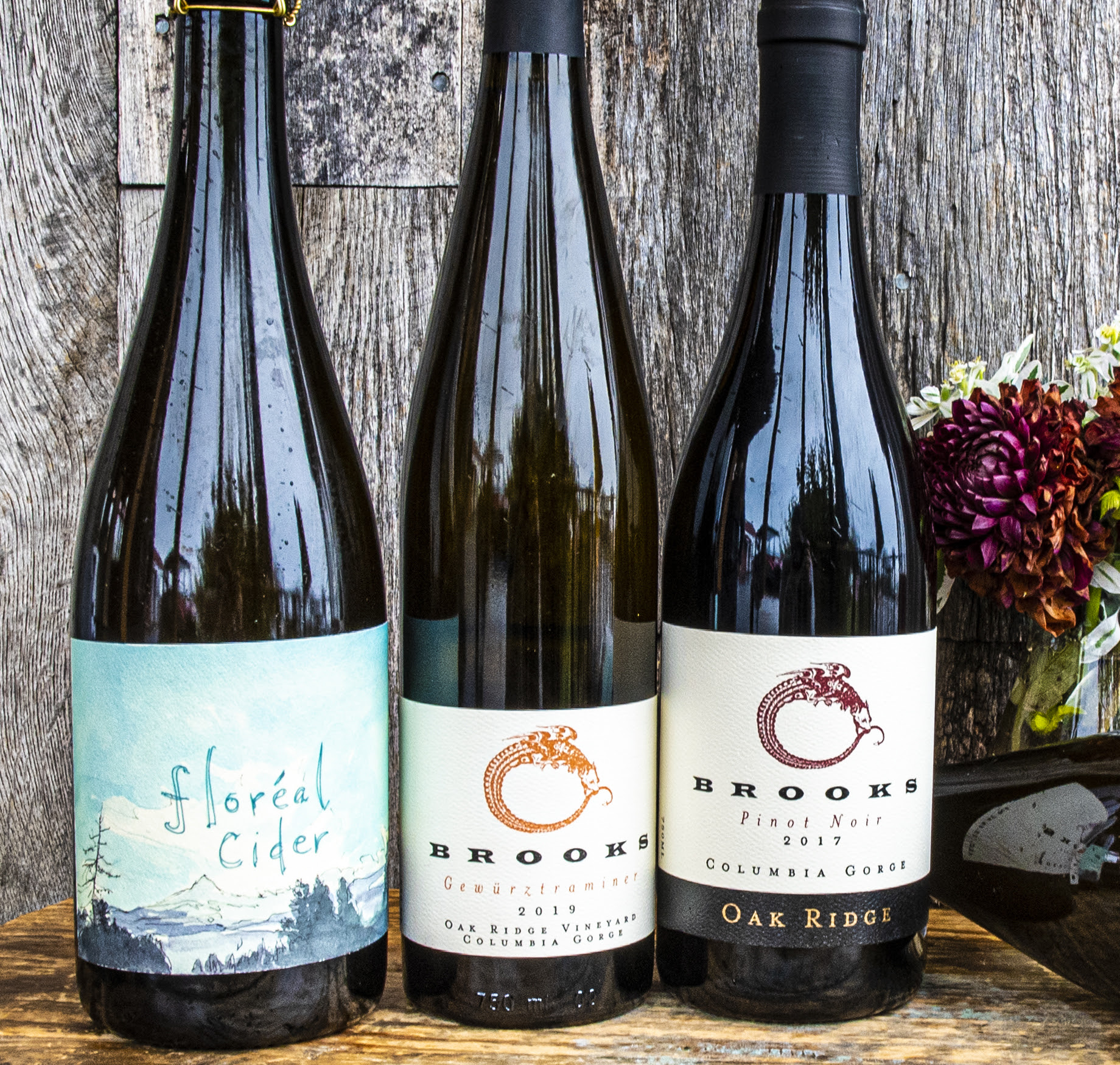 We are super excited to share our wine and webinar program for Beyond Brooks in November. Nate Ready of Floréal Cider has brought decades of experience in the wine industry to his cider making. Nate grew up in California and spent time there as a sommelier at top restaurants before moving to Oregon and working with cult winemaker Maggie Harrison at Antica Terra.
Nate now resides in Hood River and leads Hiyu Wine Farm, a vineyard and working organic farm filled with exotic cutlivars of fruits, vegetables and animals. The Columbia River Gorge has long been the fruit salad of Oregon's farming valleys. Vineyards like Oak Ridge and Hiyu are planted alongside orchards of apples, peaches, cherries and pears. This mixed farming often sees winemakers, such as Nate Ready, inspired to cross ferment, exploring fermentations from both orchard and vineyard. This is the inspiration for Floréal Cider.
This package includes:
• 1 Bottle of 2019 Brooks Oak Ridge Gewurztraminer (dry)
• 1 Bottle of 2017 Brooks Oak Ridge Pinot Noir
• 1 Bottle of Floréal Cider (750ml)
• Webinar on November 14th at 1pm PST/4pm EST with Nate Ready, proprietor of Floréal Cider, Janie Heuck, Managing Director of Brooks and Master of Wine, Bree Stock.
I wish you a wonderful week ahead.
Please let me know if I can be of assistance: [email protected] Cell is 831-238-4828.
All my best,
Janie